Volunteers and Fund Raising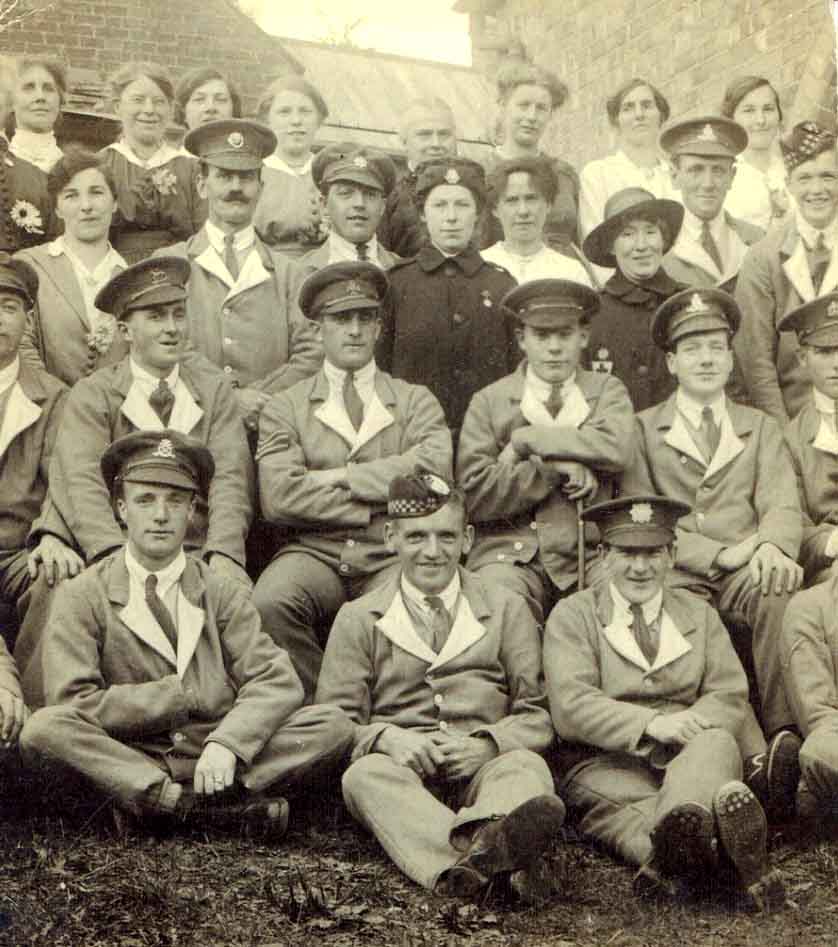 Nationally, volunteers in addition to the nurses played an indispensable role in the effective working of the VAD hospitals. Sadly not all those who helped at Southam can be given a name. It has been suggested that the nine women and girls at the back of this group are volunteer helpers or off duty VADs, each girl wearing a flower on her dress. Were they going to the wedding celebration for Daisy Chamberlayne who married in September 1917? The soldiers are clearly identifiable as the same group who went to Stoneythorpe for the party and they all look in party mode. In the middle, both in their formal outdoor uniform with hat, are VAD Isabel Tolley and one of the professional nurses. At the back of the picture is an older man; could this be Mr T.E. Davies who kept the accounts?
   Mrs Hillier and Mrs Thursby were responsible for repair of clothing and the Courier in April 1919 also praises '… a host of others who rendered valuable service in wards, kitchen, and pantry, ungrudgingly giving all their spare time to this essential work'.
   The Quartermasters stepped down about two months before the hospital closed so VAD Nellie Hillier and Mrs Lister-Kaye (another volunteer?) efficiently carried on the work.
   The Recreation Room and Open Air Ward were built with public financial support in the early months of the hospital and the Courier later summed up the situation stating it had been  '… been well supported by Southam and the surrounding villages'.
   Fundraising concerts and play performances were a feature of the social life of the area organised by the Ladies Dramatic Society and several VADs regularly took part. It is impossible to calculate how much was raised locally to boost what the government put in but the cost of a stay per patient was £6. 7s. 7d therefore, for over a thousand patients, amounts were considerable.