Adelaide Norton

Adelaide, born around 1892, came from Bishops Itchington. Daughter of Thomas Norton who served in the Gloucestershire Regiment, little is known of her family in her early years except that before war broke out, aged around twenty, she was working as housekeeper to her bachelor uncle.
   Small in stature, and firm in her gaze, she trained regularly with the St John Ambulance. The team of women, men and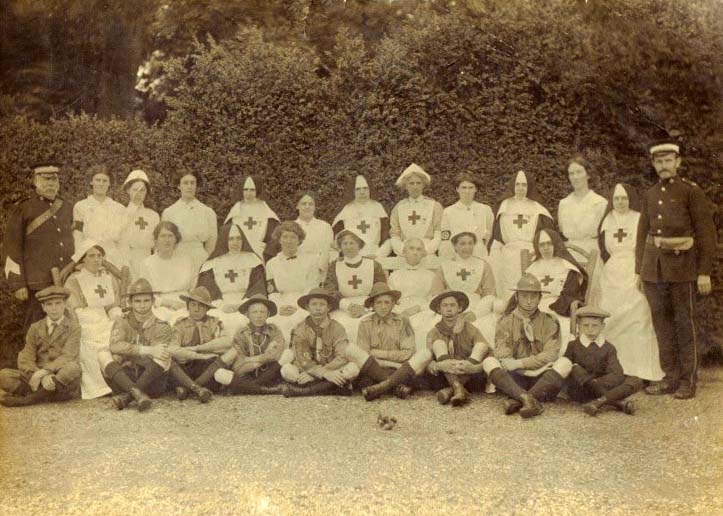 boys was led by Daisy Chamberlayne of Stoneythorpe Hall. Adelaide later trained as a VAD.
   Adelaide married Thomas Thacker in 1929. Thomas, a Southam man, was son of a lime burner and one of ten children. Their son George (born 1931) who now lives in Burnley, recalls his mother saying she served as a VAD in Southam in WWI.
   Adelaide's son George carried on the family's military service tradition; after playing in Southam Band he trained at Kneller Hall and travelled the world as a bandsman. George Thacker has generously provided the earliest pictures we have of VAD activity. They show the Red Cross, St John Ambulance and Scouts on operation together possibly in the first months of the war. Adelaide is on both pictures and George is proud of his mother's contribution to the war.
   Adelaide (known as Addie) is remembered by her younger neighbours in Bishops Itchington as a hard-working, weather-beaten little lady who kept goats for milk. She lived in a tiny cottage (now demolished) beyond the post office, grew vegetables, and despite straitened times, always kept her boys Tom and George 'spotless'.