Sister Mary Sales
 Sister Mary Sales was one of six Sisters who gained the Red Cross Qualification in First Aid in 1914.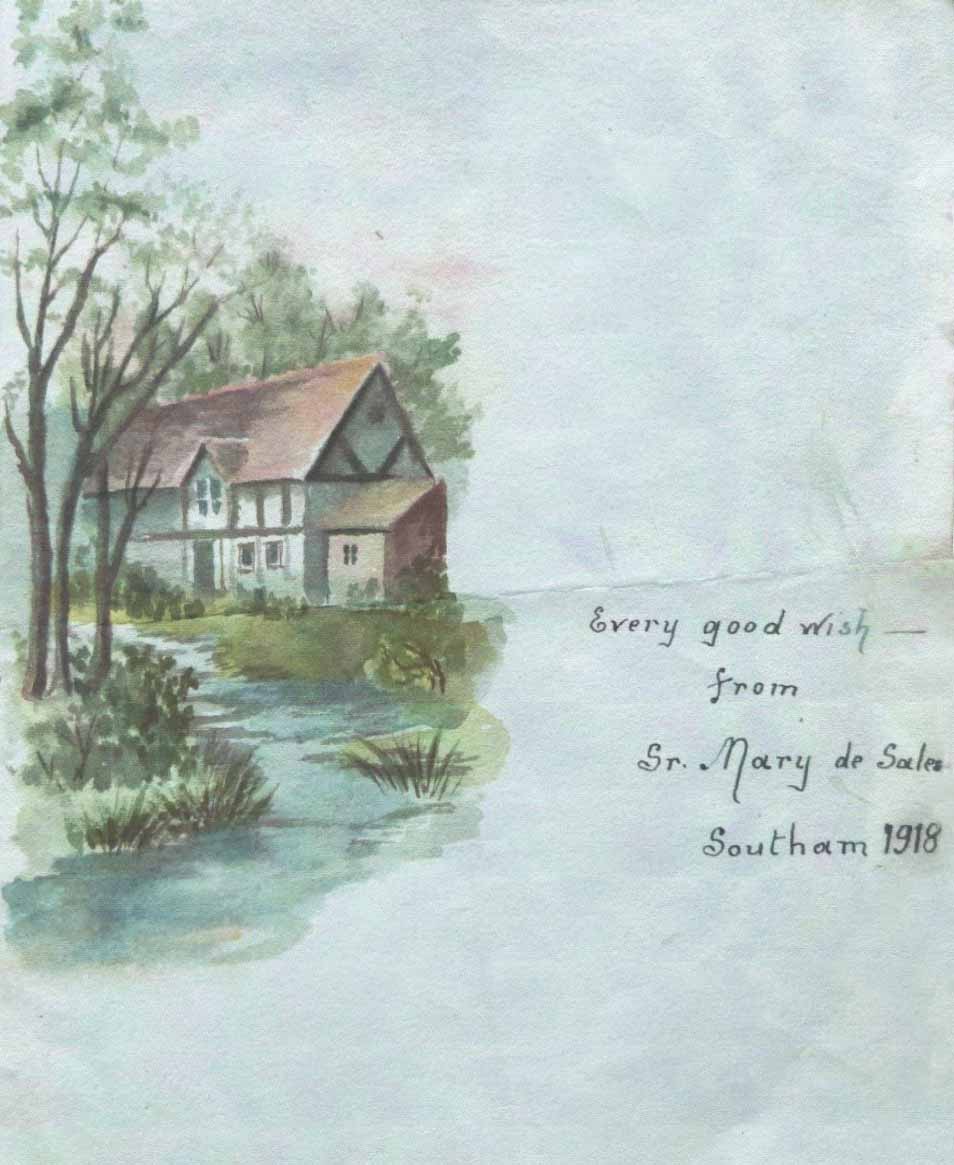 Mary Sales (Henriette Oertige) was born in London where her father, L.A.Oertige was a foreign correspondent. She joined the Congregation of the Sisters of the Poor Child Jesus at their Motherhouse in Holland and moved to Southam in 1898 making her final profession in 1901.
   This information about Sister Mary Sales comes from the Convent Archives and it tells that she was a skilled artist and needlewoman and she provided coloured designs and patterns for many of the embroideries as well as working as an embroideress. She was also responsible for the beautiful paintings, executed on canvas, that once decorated the Convent Church. She undertook this in her 'spare' time.  Sadly these were removed in the 1970s.
   In 1953 the Convent Quarterly stated that Sister Mary Sales was '…still capable of heavy work and helps [with] needlework, knitting and translation'. She was then 84 years old. She died after a fall in her room in 1957 and is buried at the Convent Cemetery.[1]
   This small image was painted in an autograph book at the time she was out and about in the town as a VAD. It is interesting that she signed herself as Sister Mary de Sales in the autograph book although most other documents record her name as Sister Mary Sales. She would have met many people and made new friends as she worked alongside others caring for the wounded soldiers. The autograph book is treasured by Liz Bishop and belonged to her aunt, one of the Hincks family whose second eldest daughter, Maria, became a VAD. It is perhaps not too far-fetched to speculate that Sister Mary Sales and Maria Hincks were colleagues at the hospital.
---
[1] Gillian Grute, historian of the Convent has put together the details in this profile from the archives. We are grateful her, and to Liz Bishop for the image painted in 1918.