Lillian Violet Plummer

Lillian was aged twenty when she became a VAD. Lillian and the other VADs would have witnessed scenes such as these every day. In the dining room, which was the former conservatory (note the shelves on the side that would have accommodated an elegant Edwardian display of flowers and ferns in more peaceful times) they prepared and set the tables with clean, freshly-laundered cloths and served the men their food. Other VADs be involved in the cooking and preparation of food whilst there would be meals to be taken to the men too ill or injured to get out of bed.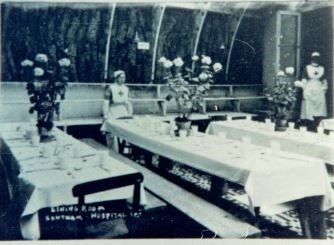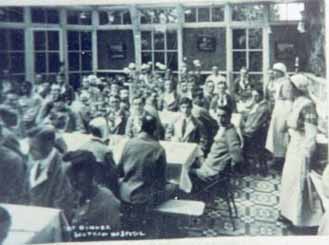 Lillian's family lived on Market Hill, Southam where her mother Mary, worked throughout her marriage, from home, as a dress maker.  Lillian's father John Plummer was the adaptable type who changed jobs quite frequently. At the time of his marriage in 1890 to Mary he was a mail contractor, by the time of Lillian's birth in 1897 he was a hairdresser, but later he described himself as a horse breaker and a horse trainer, and when Lillian got married in 1920 her father described himself as an assurance broker.
   Lillian's husband was Lionel A. Gyselynck an engineer then living in Southam.[1] They were both twenty-three years old. Lionel was the son of Camille Gyselynck, a Belgian artist and his second wife Alice Jane, a Coventry woman. The family was affluent and young Lionel was brought up in the ancient village of Odell in Bedfordshire. He was called up in WWI and served as a sapper in the Royal Engineers.
   But what may have seemed an advantageous marriage did not turn out well for Lillian. She lost a baby, Leon, in 1933 and the couple appear to have drifted apart. She died aged 40 in November 1937 and her burial detail states she was 'daughter of John Plummer' and 'lived with her brother in Hillmorton' – no mention of her husband. She is buried in Southam.
---
Warwickshire Burials on-line spells Gyselynck as Gyselynch. This error has been pointed out by Malcolm Thomas. ↑