Membership
Join the Southam Heritage Collection and help support our work. Click here or on the picture for details.
Volunteer
Want to help with our work? There are many possible ways you could contribute. Click here or on the picture for details.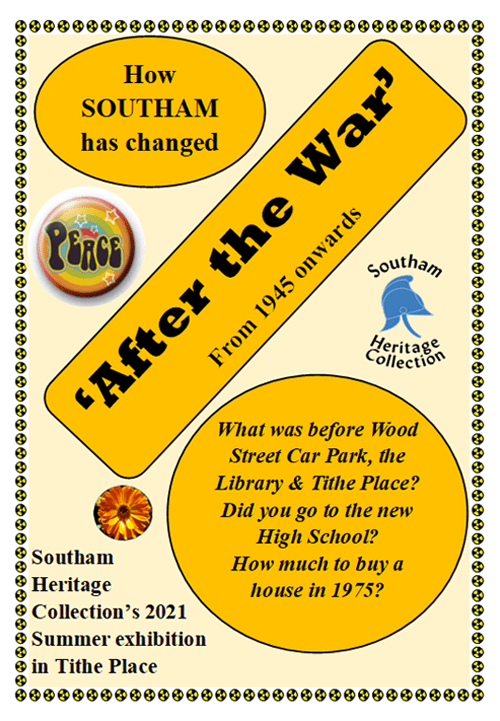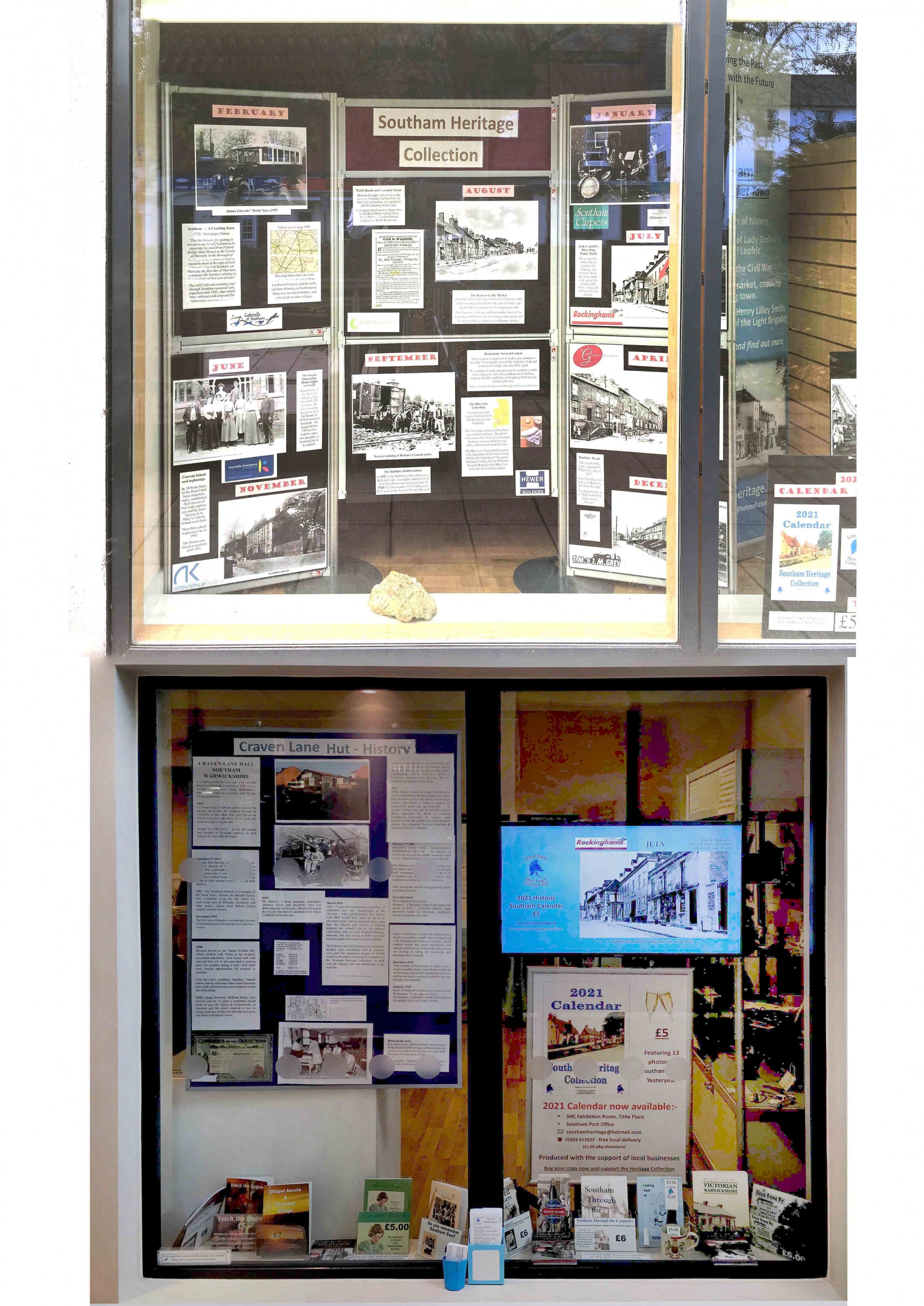 Our 2021 exhibitions are under the umbrella title "After the War, Southam from 1945″ starting with a large aerial map of Southam c.1950 in the atrium window.  Our publications include an interesting little book by Helen Morris, "Southam Zoo", which was on the Daventry Road between the 1960's and 90's. Many local children will remember visiting, or hearing the big cats roar in the quiet of the night.  Some will also remember the day a monkey escaped into St Mary's School grounds, or the penguins that swam off down the River Stowe!
Much new housing materialised after the war. Stowe Drive was built on the old Home Farm land and we have old bottles for sale which were discovered in one of the gardens in recent years.  They are ideal for making that special gift associated with Southam for as little as £1.
As the year progresses we will be featuring other areas of local history such as Southam's new post-war schools, when both primary and secondary schools replaced the old Victorian schools in School Street, which are still there.  We find out what was there before Wood Street car park, or the supermarket on Oxford Street and even way before Tithe Place itself. 
There are videos to watch, starting with a talk about Tithe Place (click to watch the video), and about Wood Street Car Park on our Exhibition Room TV.  Plus more information on different posters and leaflets.
You can also see an old valve radio, a record player and pop records, as well as some of Southam's aviation history and other post war features of the town.
So do call in over the summer and see us, and if you want to keep your distance, then pick up our Town Walk and Public House leaflets and take your own socially distanced history walk around the town with family and friends.
Also you will be able to purchase our cards, prints, local history books and other items to help support our work.
The Southam Heritage Collection is a charitable organisation run entirely by volunteers who give their time for free and has no regular source of income from any outside body so we rely on donations, events, publications written by our volunteers, etc to try and meet what are significant annual costs running into thousands of pounds each year.
One way we try to create a regular income stream to help provide some of the funding needed is the "200 Club" – a monthly lottery with two significantly increased prizes every six months. In recent years more people have decided this is a good way to support the Collection and membership has expanded significantly but there is always room for more people top join! It doesn't cost much to join and there is, like with Premium Bonds, the chance of winning a prize every month. We re-start the lottery every June, so now is the best time to purchase your annual ticket
If you would like to support Southam Heritage Collection but you don't want to become a member and are not able to volunteer, then why not consider purchasing a "200 Club" ticket? Each year starting in June we run a prize draw. Tickets are just £5 for the whole year (yes, 12 tickets for a one-off £5 cost) and there is a cash prize for the lucky winner each month with a larger 'bonus' prize in November and May. The size of the bonus prize depends on the total number of tickets sold. Tickets can be purchased at any time during the year but are only valid for that year's lottery.
To enter click on the link here, print the form and return your completed form either to the museum in Tithe Place, or to the address shown on the form. You can also join in the lottery by emailing your details direct to southamheritage@hotmail.com. Payments are accepted in cash, by cheque or via internet banking – full details are on the form.
Why not ensure you never miss a draw, and help reduce our administration costs, by setting up an annual standing order for our 200 Club Lottery – please email us (southamheritage@hotmail.com) for further details if you would like to do this.
At Tithe Place we are very fortunate to have two very large windows where we can display different aspects of local history. 
The large window facing the High Street is visible from the outside of the building any day of the week and we are using it to display different aspects of local history from that focussed on in the Exhibition Room. 
During this year, amongst other things, we are using this window to co-ordinate with the British Legion's Galanos residential home in Southam to celebrate their 100 Centenary Birthday celebrations. We will be collecting WW2 and National Service memories alongside Galanos and will use these in displays, so do feel free to contact us about any material you may like to contribute.
This window also features notices about what we are doing and includes posters about local history in Southam and surrounding villages.
The Atrium Window inside Tithe Place is opposite Southam Library on the way to the café and is available to view whenever Tithe Place is open.  We have replaced the three previous A1 poster boards with two larger A0 boards, which means we can now have a single board display on each side of the window or we can have one board and something else beside it. At present we have one large display board featuring an old aerial photograph of Southam and in the other half of the window we have our large screen television showing a local history video when we are open and for short periods after closing time. On the window ledge you can see copies of most of our publications and if we are closed, details of how to purchase in other ways.
We use both these display areas to good effect, raising awareness of the Heritage Collection, and also providing interesting visual information about various aspects of the town and surrounding area's history.
We aim to change the displays in both windows on a 6 – 8 weekly basis (more frequently than our main exhibition) so there should always be something new for you to take a look at.  
Shopping online – support us at no cost!
If you use Amazon to purchase items online, did you know you can support us at no cost to yourself each time you buy? Simply login to Amazon via AmazonSmile. This website is operated by Amazon and has exactly the same products, prices and shopping features as Amazon.co.uk – the difference is that when you shop on AmazonSmile, Amazon donates 0.5% of the purchase price to your chosen charity.
So next time you shop online, please remember to login to Amazon via AmazonSmile and then choose Southam Heritage Collection as your nominated charity.