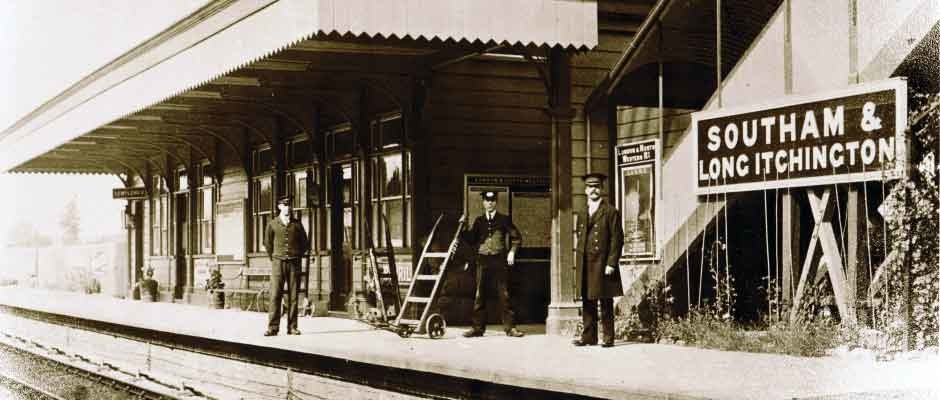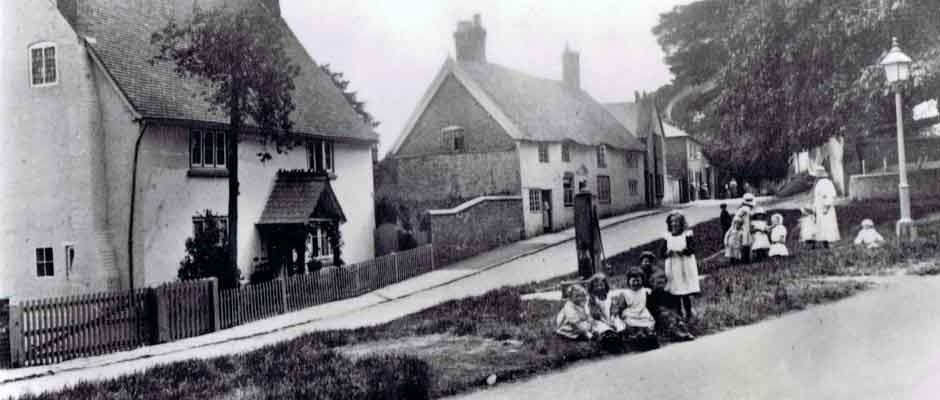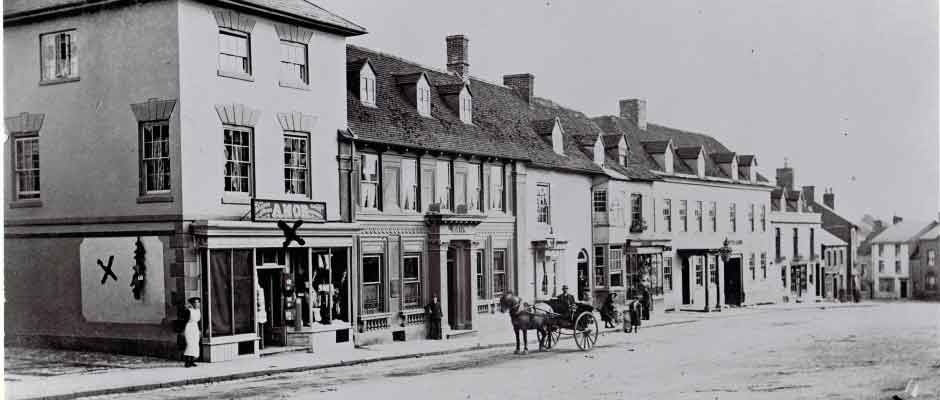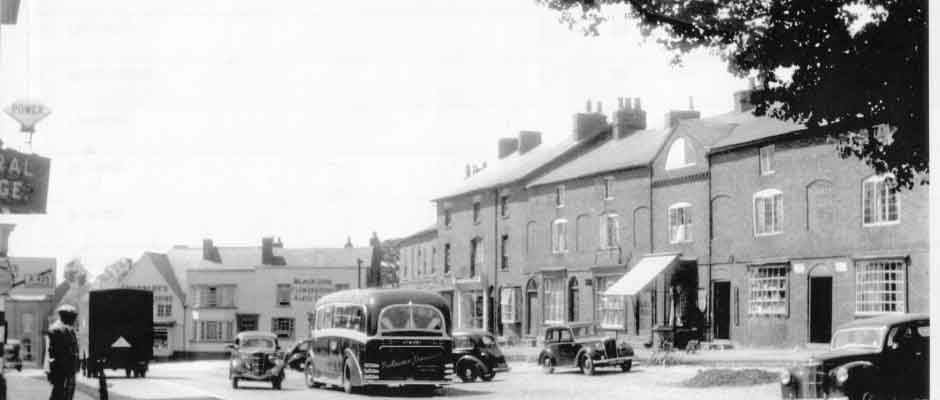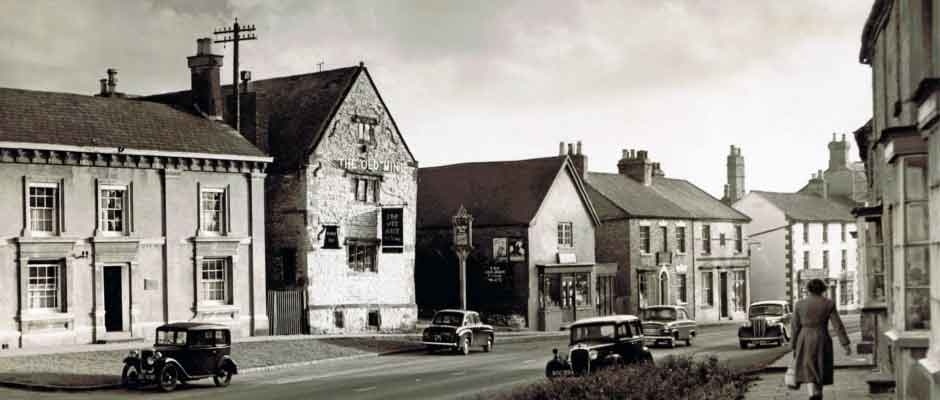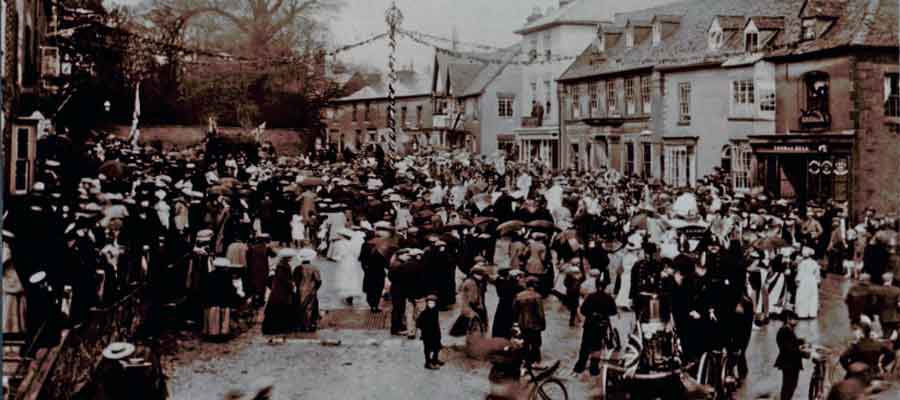 Membership
Join the Southam Heritage Collection and help support our work. Click here or on the picture for details.
Volunteer
Want to help with our work? There are many possible ways you could contribute. Click here or on the picture for details.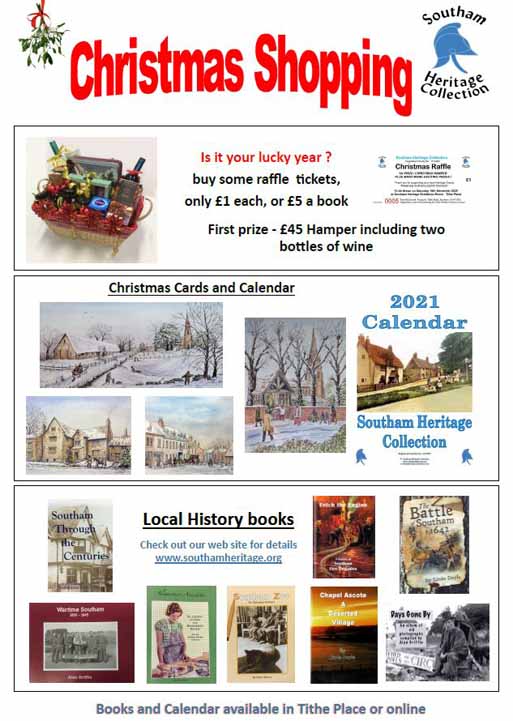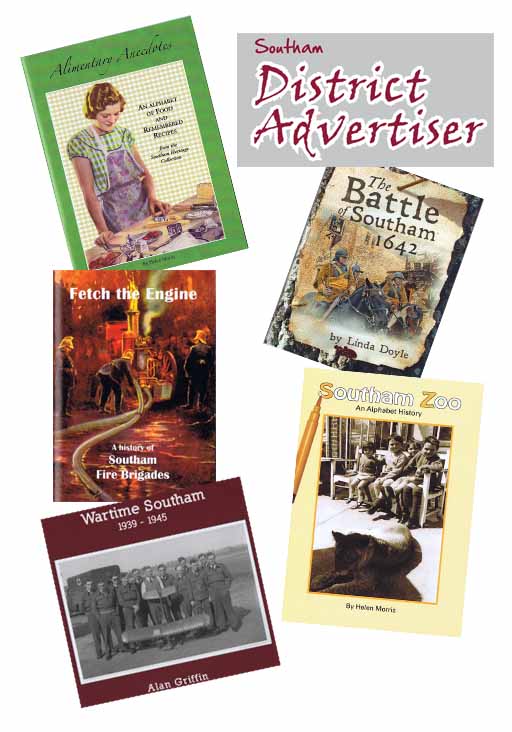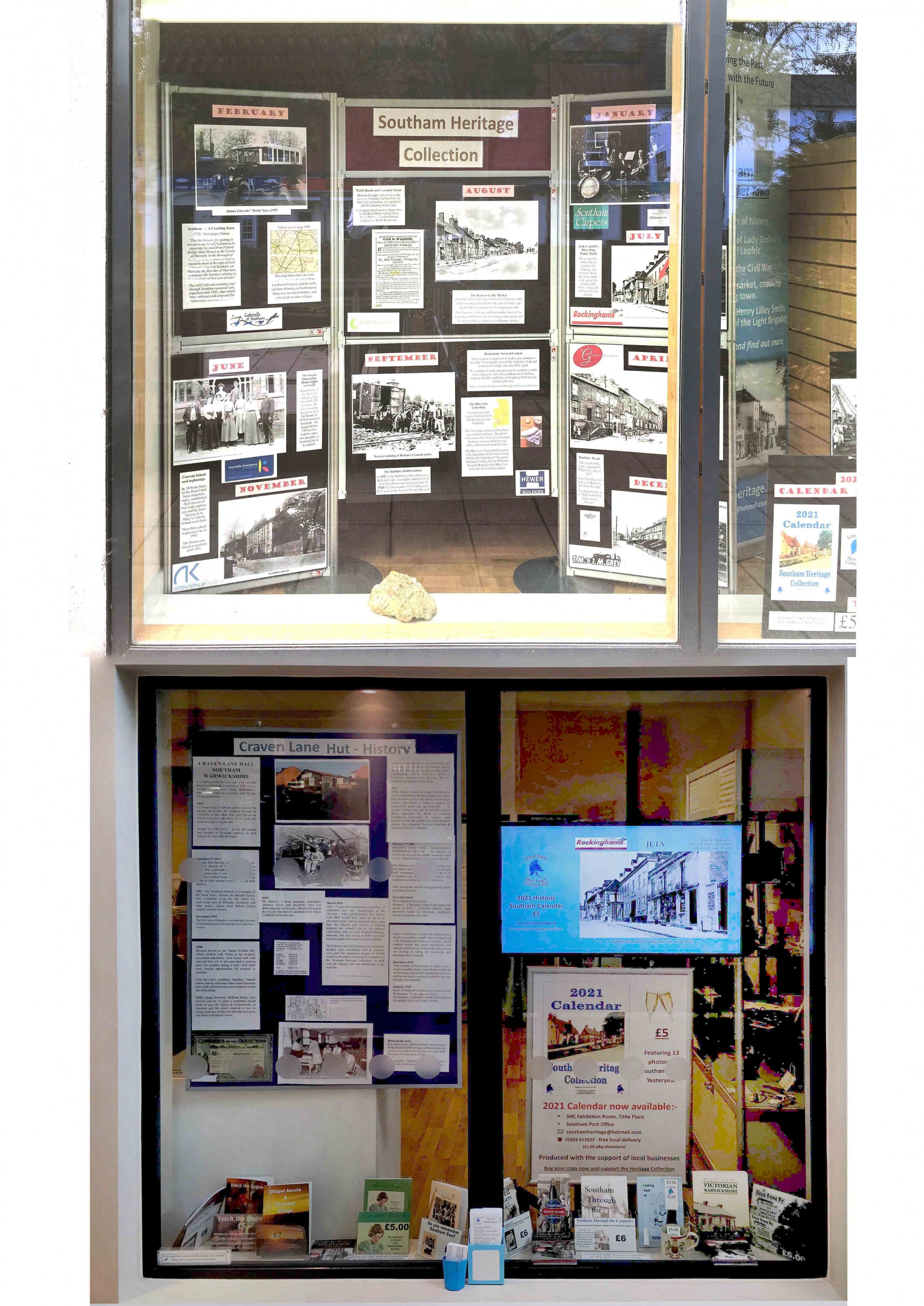 Normally at this time of year we would hold our annual Calendar exhibition with posters focussing on each of the photos featured in the Calendar. This year it is not possible for us to hold this display in in the Exhibition room. However the room will still be open for everyone who wants to buy a 2021 Calendar, Christmas Cards, Raffle Tickets, prints of our Old Southam paintings or any of our Books.
We have been thinking hard about how we could still make the photo information available whilst still meeting all the current anti-virus restrictions and we have come up with two ideas. We have designed the 12 posters and are displaying them in our High Street windows. You can see this display from the footway outside the front of Tithe Place at any time, so it is actually more accessible than in previous years. In addition we have produced a video showing each of the photos and this is displayed on our 40 inch television screen which is positioned inside our Atrium window in Tithe Place.
So please do pop in to Tithe Place when you have a Library book to return or just want a coffee and cake and take a look at our window displays and then decide on what you would like to buy from our displays. We try to have a new selection of things each each and this year is no different. You can also order the items online or if you just want a Calendar you can buy one from Southam Post Office. 
When Tithe Place is open to the public you can visit our Exhibition Room on Thursday and Saturday mornings 10:00 to 12:00. Admission free.
Unfortunately at this time we cannot arrange group visits.
If you enjoy the Cardall's Corner articles that normally appear in the District Advertiser magazine, please note these were still being produced even when the District Advertiser was not able to print a paper version. They are all (past and present) available to view on this website under the Southam History menu. Hence you can catch up on about 6 articles that never made it into the printed version of the Advertiser. A new article is added every month.
Our plans to publish a series of booklets comprising compilations of past Cardall's Corner articles have had to be put on hold while printing works have been shut down but now that business is returning to normal we are re-engaging with the printers and we hope to be able to publish the first of these compilations in the not too distant future so please watch this space for further news.
The Publications section of this website has a list of books, cards and other items of merchandise that you might like to buy.  We were asked to participate in the Southam Book Festival which is being held in a virtual environment this year and so we produced a 20+ minute vido with a group of our volunteers speaking about the books they have written or have strong memories about including our latest one by Linda Doyle on the deserted village at Chapel Ascote. You can view our video by following this link to the YouTube web site or go via the Publications menu to view a brief description of each of the books that are available. 
Please contact us via email or Facebook if you have photos, documents, information or items that relate to Southam's history. We are always interested to hear from you.
At Tithe Place we are very fortunate to have two very large windows where we can display different aspects of local history. 
These two windows (one facing High Street and visible from the outside of the building and the other in the Atrium area as you enter the building) have undergone a bit of a makeover during the Summer. We are now using the external window to display posters about local history in place of the Exhibitions since we cannot open the Exhibition room fully just yet. 
The Atrium Window on the other hand has undergone a slightly more radical makeover – over the Summer we have replaced the previous three A1 poster boards (which could be quite difficult to view because of the large window strip down the middle of them) with two larger A0 boards. This means we can now have a single board in each window or we can have one board and something else beside it. At present we have one large display board containing a comprehensive history of the Craven Lane Hut which has been in the town for nearly a century now, and in the other half of the window we have our large screen television showing large scale copies of each of the twelve photos that are included in the 2021 Calendar. On the window ledge you can see coopies of most of our publications. 
We use both these display areas to good effect, raising awareness of the Heritage Collection, and also providing interesting visual information about various aspects of the town and surrounding area's history.
We aim to change the displays in both windows on a 6 – 8 weekly basis (more frequently than our main exhibition) so there should always be something new for you to take a look at.  
200 Club
A big thank you to everyone who bought 200 Club tickets in time for the start of the new 2020 / 2021 lottery in June. We have been overwhelmed by your generosity, as the 200 Club is an extremely valuable source of revenue for us.
You can still buy tickets now for the rest of the current lottery year. A ticket costs just £5 and there is a chance to win a minimum cash prize of £10 every month from now until next May. Two larger 'bonus' prizes are paid in November and May depending on the number of tickets sold.
To find out how to buy your 200 Club tickets, please Click Here
Shopping online – support us at no cost!
If you use Amazon to purchase items online, did you know you can support us at no cost to yourself each time you buy? Simply login to Amazon via AmazonSmile. This website is operated by Amazon and has exactly the same products, prices and shopping features as Amazon.co.uk – the difference is that when you shop on AmazonSmile, Amazon donates 0.5% of the purchase price to your chosen charity.
So next time you shop online, please remember to login to Amazon via AmazonSmile and then choose Southam Heritage Collection as your nominated charity.