Miss Nellie Irwin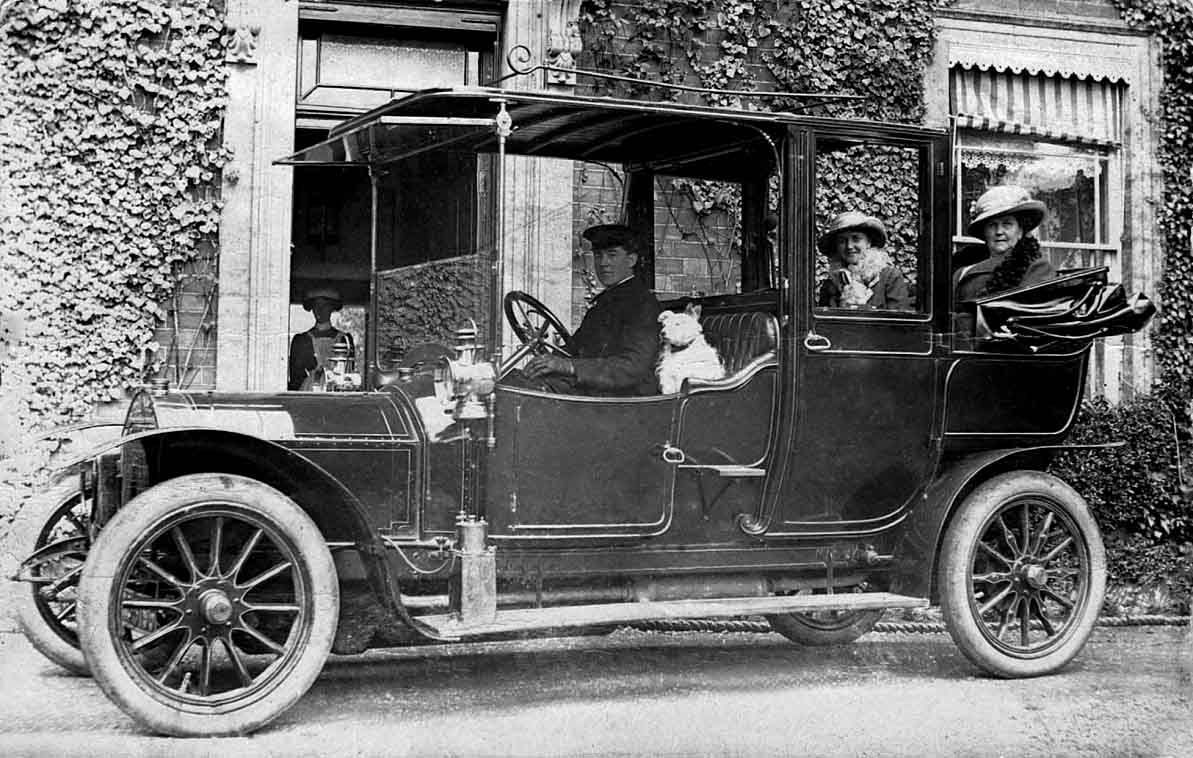 Ellen (Nellie) Irwin was brought up in Napton, daughter of Rev. Arthur Irwin and his second wife Alicia. Arthur came from Dublin whilst Alicia was the daughter of the old and very wealthy Hedley Dent family of Shortflatt Tower in Northumberland.
   The Irwins lived in the spacious Napton Vicarage (which is now demolished) where they were comfortably attended by a cook, lady's maid, parlour maid, house maid and groom. Young Ellen was educated by a governess whilst her brother went to Winchester and Oxford. After the Rev. Irwin died, the family moved to Newstead Lodge in Southam which is now a care home. Mother and daughter are pictured here outside the house.
   When WWI broke out Miss Irwin was twenty eight. She worked for the Red Cross inexorably as local secretary both before and throughout the war. She collected in 'subs', organised and dispatched gifts 'in kind' of clothing and blankets, organised venues and meetings, and she made sure that Southam's women contributed to the war effort by running working parties making garments for the troops. These in 1914 included 'blankets, day and night shirts, scarves, cholera belts (a long woollen garment worn wrapped around the abdomen which was purported to prevent cholera), mittens and 103 pairs of socks'.
She was one of thirty women from the town who gained their Red Cross Certificates in 1914. On the occasion of an exhibition and meeting of the Southam Branch of the Red Cross Society she thanked both the Sisters of the Convent and the Managers for allowing the Infant School to be used for the lectures. She also thanked the local doctor, Dr Lattey who delivered the six weekly lectures on nursing, for giving his services 'gratuitously'. [1]
   'Eggs for the Wounded' was one of her concerns from September 1915. Nellie Irwin visited schools and organised the donation and collection of the eggs. In May 1916 she collected 2,365 eggs and during Easter Week 852 eggs. She made it known in the local paper that she was grateful for such support from a small rural area.
   With good practical and organisational skills, when the hospital opened in 1917, Miss Irwin became Quartermaster, a responsible and onerous role. Equipment, furniture, beds and bedding, dressings, clothes, cleaning and laundry equipment all had to be organised. She travelled weekly to Rugby station to collect goods, but much was not centrally supplied from London headquarters.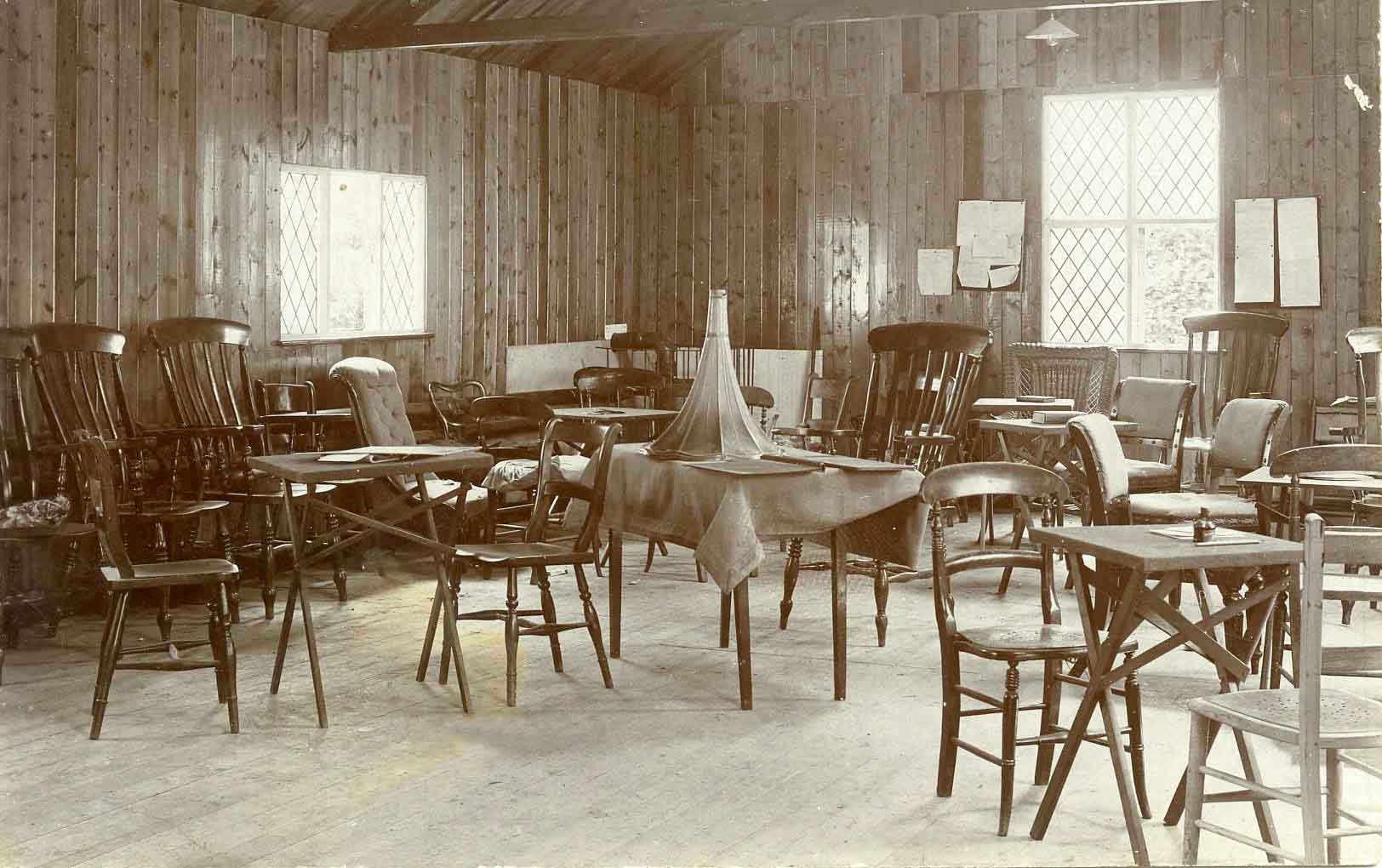 The local support across the country for VAD hospitals in terms of people 'stepping up to the plate' doing jobs, giving food supplies and supplying beds, furniture and transport has been well documented over the years.[2] We have no evidence of what happened in Southam, only photographs, but one can imagine that to equip the Recreation Room (a hut built in the grounds of the Grange paid for by donations and fund raising), that Miss Irwin used her persuasive powers on the people of Southam to donate chairs, equipment and small luxuries for this room. It certainly does not look like uniform military-issue furniture but was a comfortable place for the soldiers to relax.
   After the war Miss Irwin was one of four from the Southam Red Cross Hospital to be mentioned in a letter of appreciation from Queen Alexandra. It is apparent she played a crucial role in the success of the hospital.
   Miss Irwin continued after the war at the forefront of local voluntary work and served as a JP. Eventually she moved to London where, in 1939, at the age of fifty three, she tragically died falling down a lift shaft. The Rector of Southam, Canon Jones, described her as 'a charming and generous lady…a wonderful organiser'.[3]
   She is buried in the family grave on the south east side of Napton Church yard. Here too lies her brother Rev. Ronald Irwin, who was decorated in the war for conspicuous gallantry and later died of his war wounds.
---
Leamington Courier 27 November 1914.
Thekla Bowser, Britain's Civilain Volunteers, Authorized Story of British Voluntary Aid Detachment work in the Great War. Published 1917- a very early description.
Royal Leamington Spa Courier and Warwickshire Standard  7 July 1939.