Mrs Lillia Akroyd
The Assistant Commandant. When the VAD hospital was set up by public subscription Mr Akroyd gave generously and his wife became the Assistant Commandant to Lady Shuckburgh. They had achieved status in their new surroundings. During the war all three sons of the Akroyds served and eight of the servants from the mansion enlisted:  butler, footman, four grooms and two gardeners. [1]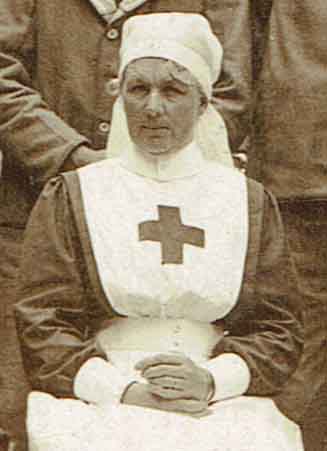 Little is known of her except that before WWI she supported the National League for Opposing of Woman Suffrage. The Leamington Branch was vehement in its opposition to votes for women. As a guest speaker Lady Jersey said 'it was not for women to have any voice in connection with military undertakings or financial matters, or questions of foreign policy or much that concerned finance', this was men's work whilst women's was 'to take part in the social life as a wife or mother, and as such in the municipal life of the nation'. Leamington Anti-Suffrage League believed that for women 'the extension of the Parliamentary Franchise… would be hostile to their own welfare'.[2]
Holding such views on the role of women, how Mrs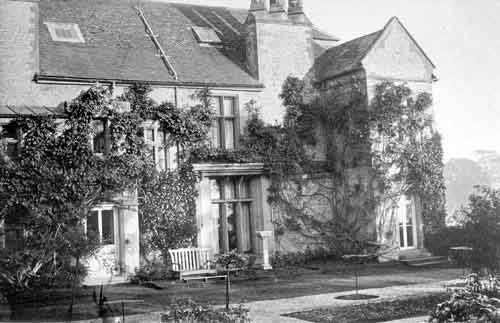 Akroyd coped at the VAD hospital where working-class girls, middle-class women and those from the highest social set, all put their previous existence behind them, and worked to care for the injured 'Tommies' is not recorded. It was a life far removed from the genteel role to which she was accustomed.
The Akroyds of Birdingbury Hall represented new money. John Bathurst Akroyd, a sixty-three-year old stock broker, son of a member of the London Stock Exchange, but from a Lancastrian industrial background took an extended lease on the property in June 1910, moving his grown-up family to Warwickshire from the Home Counties.[3]
   He brought in a London firm to install electric lighting and he made grand extensions to the stables and interior. He made clear in the press that he would be employing local labour for at least three months. It was a fine mansion (pictured right in about 1910) standing in sixty-five acres and his new money bought him s
tatus. He made clear his intention to be in residence for the hunting season.[4]
   Lillia was only nineteen when she had married thirty-six year old John Akroyd. She produced four children and lived the life of a lady. At Birdingbury Hall she had a staff of ten live-in servants including two grooms.
   John Akroyd died in 1920 and left the equivalent in today's money of two million pounds. In the 20's their daughter married an equerry to King George V and Mrs Akroyd may have gained satisfaction in later life that her twelve-year old grandson was made a page to the King. The Akroyds, industrialists from Lancashire, had arrived in Royal circles.
---
Richard Davies, Birdingbury History Group
Leamington Courier, 23 May 1913.
Leamington Courier, 3 June, 1910.
Leamington Courier , 8 July, 1910.