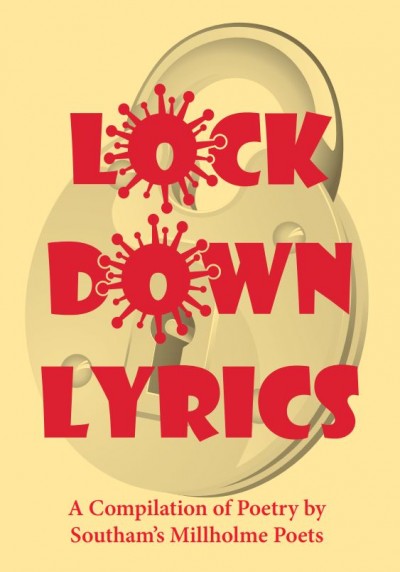 Lockdown Lyrics.   –  by Southam Millholme Poets  £5
Kay Rainsley, Pamela Ireland-Brown, Monica Evans, Dave Brough, Maureen Daniels, Roland Raffell, Mary Upton, Linda Doyle
"Lockdown Lyrics" is available from the Southam Heritage Collection at Tithe Place Community Rooms, High Street, Southam CV47 0HB for £5.00. (P&P £1.75) – please make cheques payable to Southam Heritage Collection. You can also order and pay online (or instore) using your credit/debit card by clicking on this link.
Or email southamheritage@hotmail.com if you are purchasing from overseas or call Linda Doyle on 01926 814214 for more details.
An historical record through poetry of how eight Southam poets lived with twelve months of Covid-19 Lockdown between April 2020 and March 2021.  How each month they continued to write supporting each other by email and Zoom, until they realised how they were all looking through similar eyes on a similar world.  We hope that this will prove to be an interesting historical document recording the effects of the pandemic on the psyche of the average person: their anxieties, hopes, introspection, etc.  As we emerge from this strange period we can look back via these poems and perhaps learn some lessons for future times.