The Hospital Patients
Southam VAD Hospital had 53 beds and each convoy of patients stayed approximately six weeks.  Over 1,000 soldiers were treated in two years and there were no deaths.
Southam Heritage Collection holds an important archive of photographs of large groups of soldiers gathered on the steps at the side of The Grange, usually with the leading members of staff and these have been used to illustrate these web pages. Some of these have been used to illustrate the VAD pages and others are shown at the end of these web pages.
The uniform and some details of the injuries of the patients can be gleaned from the photographs.
The young man (left) with the head injury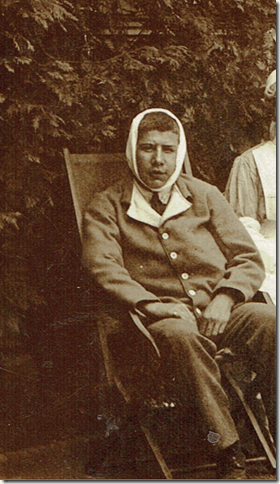 is wearing 'hospital blue' –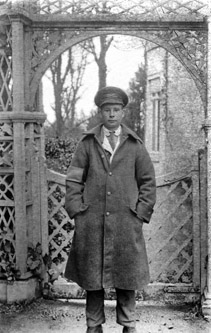 a bright blue loose-fitting suit with cream revers, white shirt and red tie. On arrival their battle dress had to be deloused. This young man (right) in outdoor wear is standing near the exit of The Grange perhaps going for a walk. The soldiers were a familiar sight in the town as they shopped for essentials. The distinctive uniform was a signal to those who saw them out and about that they were injured soldiers not shirkers.
The young soldier from a Scottish regiment (below left) with the crutches has had his foot amputated. He is on three photographs and has learned to get about despite his injury.
The soldier seated smoking (below centre) has a hand injury and looks stressed and vulnerable. The hospital installed an outdoor ward for the treatment of those suffering from gas inhalation and perhaps those with a tense and anxious posture had breathing problems or were suffering from shellshock or neurasthenia caused it is thought by many factors including the  incessant pounding of gunfire, gas poisoning or mental stress; today the condition would be termed 'post traumatic stress disorder'.
The man standing (below right) with a heavily-bandaged arm and soft slippers (rather than boots) suggests he had a complex arm and shoulder injury and also his feet suffering from trench foot or other painful symptoms of exposure and injury.
Below is a short list of patients and although more than 1,000 men were treated in two years, sadly the names of only about twenty are known. Please contact us if you can add the details of a soldier who was treated at Southam VAD Hospital.
The soldiers we known something about are listed below:
Those soldiers for whom we only have records of their signature in Winnie Tolley's (a sister of VAD Isobel Tolley) autograph book [3] are listed below. Click on the name of a soldier for any details and the date of their signatures in the book.
       Private W Anderson (14148) 10th Gordon Highlanders was at the hospital on 24th June 1917.
Gunner R Burt, Royal Garrison Artillery (no date)
Pte. F. W. Crossley 1/10 Manchesters was at the hospital on 23rd April 1918.
       J. Delors was at the hospital on 3rd April 1918.
Private Chas Dodds Royal Scots  was at the hospital on 21st April 1918.
Private A. Dufall [or Dafall], Devonshire Regiment was at the hospital on 21st April 1918.
Tich Eastman 11th KYR was at the hospital on 24th April 1918.
F. Harrison Edmunds, Christmas 1917. He copied this image by the popular cartoonist Bruce Bainsfather.
Private H. H. Hutchinson (9334) 2nd A.S. Hussars was at the hospital on 24th June 1917.
       Alex J. Moore (27/11/17)
       Pte J.W. Mortimer Essex Regt. (21/6/17)
Corporal A. J. Rash, 2nd Suffolks. (no date)
The following photographs were taken at various times during April 1917- April 1919. They were printed as postcards so the men could use them to write home. Click on each photo to see a larger version and use the right and left arrows to scroll for more pictures.
---
[1] Pictures and information supplied by Simon Colbeck, grandson of Alec. [2] Alan Griffin, 'Wartime Southam 1939-1945' (published 2017) [3] Donated to Southam Heritage Collection by Mary Williams in 2014.