Frances Emma Gahagan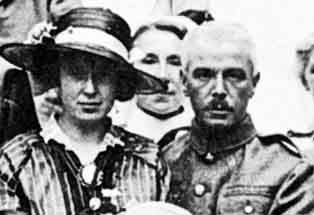 Frances could be said to have had a 'good war'. She took part in many of the entertainments in Southam and surrounding areas with the Ladies Amateur Dramatic Society, she gained her Red Cross qualifications in 1914 with the group that included other thespians such as Sarah Cardall, then she found herself a young husband amongst the patients at the hospital and they were married at St Wulstan's Roman Catholic Church  as soon as the war was over.  Taken from a larger picture below there is some reason to suppose this is the married couple.
   Frances's mother was Frances Webb, Southam's post mistress who originated from a wealthy background in Chudleigh in Devon. Well educated and married to a service man who died whilst her daughter  was young, the family moved around the country; Frances Emma Gahagan was born in Canterbury in 1892 but spent part of her childhood in Oxfordshire before moving to Southam, where her mother re-married around 1910.
   The marriage of Corporal William E.C. MacVeigh and Frances Emma Gahagan was a small-scale event but the couple received a present from the Hospital patients and staff and they all appear to have enjoyed a celebration. Guests included the priest, Father Francis Stanbridge (centre back), three children seated with a service man in uniform and his wife on the second row, and a few ladies in flower-decked hats.