Isabel Tolley
We are not 100% certain which nurse is Isabel Tolley. Some visitors to the exhibition in 2014 who remembered her as an old lady when they were in their youth, and they named the nurse in the middle of the front row of this photograph as her. She is sitting in the place normally reserved for the Commandant or professional nurse. This young woman featured on many of the photographs suggesting she had an important or responsible role in the hospital.
   Isabel (sometimes called Daisy) qualified in 1914 and worked at the Warneford in Leamington before the Southam Hospital opened; she therefore was more experienced than most of the other VADs. Mary Williams remembers her as a lovely person: thin, prim and proper.  She is mentioned in a commending letter from the Secretary of State for her 'Valuable services', and after the war she went on to be a professional nurse.
   Isabel Tolley lived in Vivian House on Market Hill at the outbreak of WWI but she was brought up at Marston Doles Warf. Born in 1893, her parents were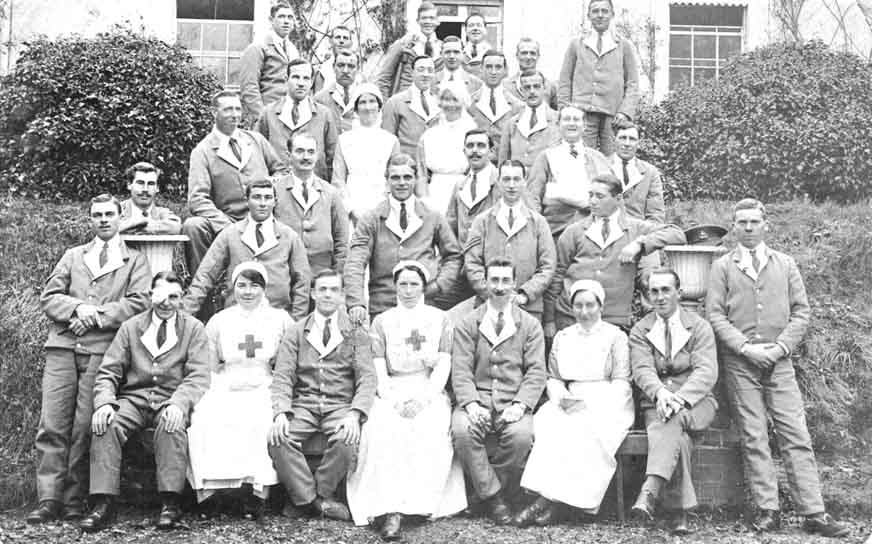 David and Margaret Louisa Tolley. David was originally assistant to his father, the toll collector on the canal. David prospered and became the wharfinger (in charge of the wharf and distribution of goods), a coal merchant and also farmer. Like many of Southam's men, he prospered by being entrepreneurial and versatile.
   Isabel was hard working and it was she who did the cooking for the family in the well-equipped kitchen basements at Vivian House and slept in the top of the house in the attics. She remained single and cared for her parents until their deaths in the early 1940s.
   In old age she grew deaf and friends found her polite but silent. The life of this serious-minded, conscientious woman was one of willing service to others.