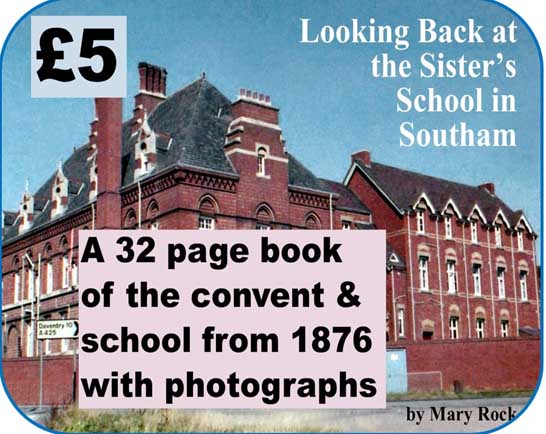 The Sisters' School   –  by Mary Rock  £5
"The Sister's School" is available from the Southam Heritage Collection at Tithe Place Community Rooms, High Street, Southam CV47 0HB for £5.00. (P&P £1.75) – please make cheques payable to Southam Heritage Collection. You can also order and pay online (or instore) using your credit/debit card by clicking on this link.
Or email southamheritage@hotmail.com if you are purchasing from overseas or call Linda Doyle on 01926 814214 for more details.
First written in 1998 by Mary Rock, who was the school secretary for St Mary's Catholic Primary School, this reprint follows the story from the beginning in 1876 of Southam Convent and St Mary's School by the German nuns from the congregation of the Poor Child Jesus, until the new school is built in the late 20th Century.
Mary was a close friend of Irene Cardall whose husband Jack Cardall established the historical Cardall Collection, the forerunner of the Southam Heritage Collection. Together with Irene, she wrote many of the earlier Cardall's Corner history articles for the Southam Advertiser, which are archived in the Collection.