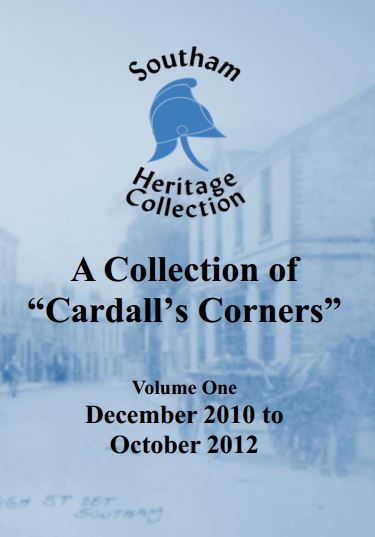 A Collection of "Cardall's Corners"
Volume One: December 2010 to October 2012
For many years, we have published a monthly article on a history theme in a local magazine.  The articles are called 'Cardall's Corner' and take their name from the founders of Southam Heritage Collection, Jack and Rene Cardall. 
To keep these articles in the public eye, we are compiling anthologies in booklet form.  This is the first volume of the series, and within its 52 pages there are more than twenty articles, with accompanying photographs, that were published between December 2010 and October 2012. 
The articles were written by various local authors, and cover a wide range of subjects from many different eras.  They present fascinating snippets of history related to Southam and District in a very readable format. 
We hope you will discover some new and interesting facts and stories within the pages to enrich your appreciation of Southam and its surroundings. The booklet would also make a lovely gift for anyone with an interest in Southam's history. 
This book is available from the Southam Heritage Collection at Tithe Place Community Rooms, High Street, Southam CV47 0HB for £7.00 (P&P £1.50). If paying by cheque, please make cheques payable to Southam Heritage Collection.
During the Covid-19 lockdown please send an email request to southamheritage@hotmail.com with your address for posting or local delivery, and we will send you details of our bank account for electronic payment.
 Alternatively, call Linda Doyle on 01926 814214.