Sister Edith
Six Sisters of the Poor Child Jesus joined other women of the town to gain Red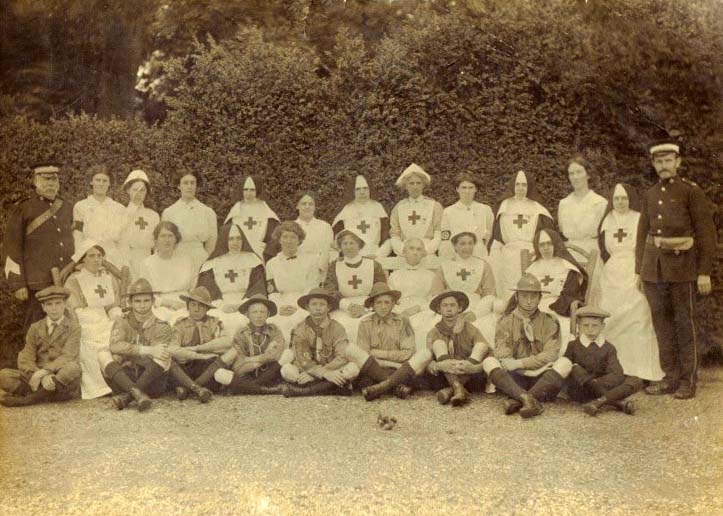 Cross Certificates in Autumn 1914. They were Sister Mary Magdaline, Sister Theotema, Sister Mary John, Sister Mary Sales, Sister Wilfred and Sister Edith. All six Sisters appear on a photograph of a joint training exercise in 1915 wearing white aprons with their red crosses over their nun's habits. Convent records show that Sister Magdaline (or Magdelene) left the Congregation in July 1916.
   Sister Edith (Isabella Duffy) was born in Banbury. She was a scholar at the Convent School then entered the Convent in 1885, one of the first English entrants to join this German Congregation.
   She would have been in her early fifties when she was a VAD the eldest of the group of Sisters.  Sister Edith died in 1929 and is buried in Southam.
   The Mother Superior at the time when Sister Edith joined came from Germany. Ten Sisters were forced to leave Germany through religious persecution of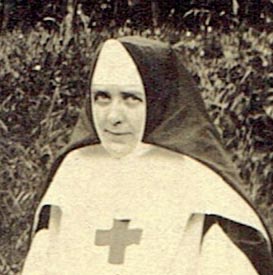 Kulturkampf to find refuge in Southam.  They spoke little English and the orphans waiting for them could not speak German but they were assisted for a while by a house keeper who spoke both languages. By the outbreak of war writes historian Gillian Grute, 'the Sisters of the Poor Child Jesus had been in Southam for 38 years and had slowly been accepted as members of the Community. They came in contact with townsfolk through their teaching, their care of children in the orphanage and church services which were open to Catholics in the area. Some would have been seen working on their farm and market garden. Further afield, the Sisters were becoming known for their exceptional needlework skills and the making of high class ecclesiastical vestments, the sale of which, helped to finance their work with children. In 1914, Convent records show that there were: 42 house children, 36 boarders and 75 externs. Of the children, at least six were listed as refugees.'[1]
   Hospital photographs from 1917-1919 show four Sisters at a given time but definite identification of all has proved impossible, so far. Pictured here in a woman with large eyes, firm gaze and upright stance – kindly but determined. It is possibly Sister Winifred or Sister Edith.
---
[1] Gillian Grute: 'Sisters of the Poor Child Jesus in Southam' article in Exhibition Southam Women in WWI,  Southam Heritage Collection, 2014.