2017 Social Event – Friday August 11th, 7:30 pm
For a number of years now we have held an Autumn Social Event for members and their guests to get together and celebrate the progress we are making in promoting the history of our town. Last year was an exception because it was our 10th Anniversary and we held a tea-party in the grounds of Beech Loft where Rene Cardall housed and looked after the Cardall Collection for many years. This year we would like to return to Southam Cricket Club with an evening supper and some appropriate entertainment. We have engaged Geoff and Joan Todd from Deddington to entertain us with their Pearly King and Queen double act. See opposite for a picture and some details of their work.
The Event will start at 7:30 at Southam Cricket Club so there will be plenty of easy parking space, however because the size of the venue is limited we have to restrict the tickets to a maximum of 60, so don't delay. We'll have a raffle with some great prizes as well. The meal will feature, in line with our Summer 2017 Exhibition, a Steak and Ale Pie (with a suitable vegetarian option for non meat eaters).
Tickets are £14 to include a two course meal followed by tea/coffee and of course the entertainment – there will be a pay-bar for those not driving (its not far to walk home to Southam!).
Geoff and Joan donate their fee for the evening to support Macmillan Cancer Support, so you can support two good causes in one evening.
Send an email to southamheritage@hotmail.com  to book your tickets or contact any Committee Member.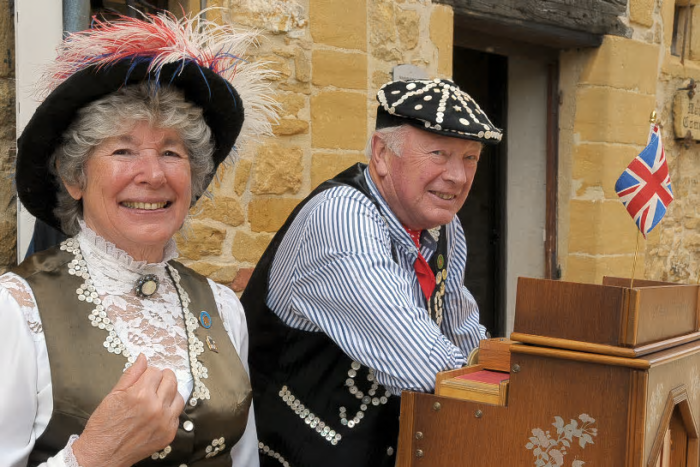 A couple from Deddington have used their street organ to raise money for a cancer charity for more than 20 years. Geoff and Joan Todd, who have raised more than £100,000 for Macmillan Cancer Support since they started fundraising in 1991. The couple, who started the Banbury Organ Grinders festival 22 years ago and now tour across the UK and France giving talks and attending festivals with their street organ, were originally inspired to raise funds for Macmillan after Mrs Todd's grandmother was diagnosed with cancer and wished to be cared for at home. Mrs Todd said: "I know how lonely people can feel when they have been affected by cancer. "We used to visit motorway service stations in the run-up to Christmas when many people would be travelling alone, for the first time since the death of their husband or wife. "The Macmillan support line is a fantastic resource for anyone who feels lonely or isolated". The pair collect cash when they are out with their street organ. Mr Todd said: "A visit to a French street organ festival started our love affair with organ grinding as they all wear national costumes when they perform, and we decided to make Pearly King and Queen costumes to perform in. "We were asking people to donate pearl buttons so that we could make our costumes and after a morning in Deddington Market Place, playing the organ and collecting buttons, we were surprised to find £70 in the pot and so our fundraising began."