Mrs Selina Oldham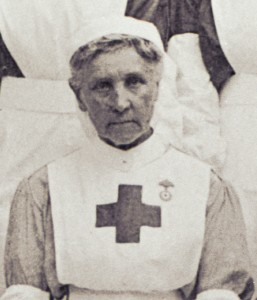 Mrs Oldham in her early fifties was the oldest of the VADs. In 1897 she married John Oldham at St Nicolas Church, Kenilworth. She was the thirty-one year old daughter of the affluent Turner family and he a forty-three year old Southam cement dealer. Their wedding was a grand affair with three clergymen officiating, and after a honeymoon in Brussels and Paris they lived in comfort at Beech Hurst, not far from the Irwins, on Warwick Road. The couple were childless and Mrs Oldham was in her fifties when she served at the Red Cross hospital; it was a stark change of life style for her.
   The Oldhams were pillars of society; John was a Church Warden and Justice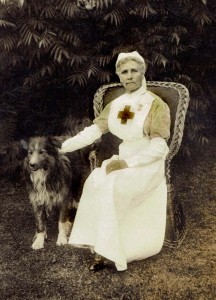 of the Peace, and during the war both served on the local Food Committee. In May 1918 their reputation became tarnished when both appeared before Southam Magistrates accused of food hoarding. Ten hams were found at Beech Hurst with two sides of bacon and a quantity of other provisions. Townsfolk gave evidence that the butchers, who never appeared to have any proper meat for sale, were repeatedly delivering to Beech Hurst.
   Defending, a barrister said that five of the hams were purchased for friends and the others were intended for their own use. The case against Mr Oldham was dismissed but Mrs Oldham was found guilty on three charges and fined ten shillings on each charge and ordered to pay costs of £8.4s.[1]
   Mrs Oldham continued to serve as a VAD, and she appears on many of the group photographs. Her name was amongst others congratulated in a letter from Queen Alexandra after the war. Stern and never happy looking in photographs, she is remembered by older residents in Southam as a grand lady who always wore black.
   In the early part of World War II, by then an elderly widow, she declined to take in evacuees and moved to Leamington where she died in 1942. She and her husband are buried in St James Churchyard, Southam.
---
Alan Griffin, Lest We Forget (Warwick: Brewin Books, 2002), p.81. ↑