Hester Mary Grant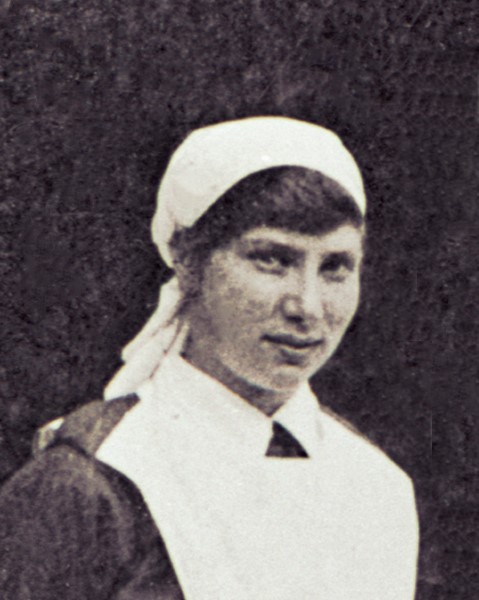 Mary, as she was known, was born in 1900 daughter of John Thomas and Catherine Grant. She was scarcely out of school when war broke out in 1914 and yet with her contemporaries Lily Burnell, Beattie Langton, Olive Fell and others, by the age of 17 years she was tending the wounded soldiers returning from France.
   The Grant family ran the bakers in Coventry Street. According to her daughter Mary did the cleaning and domestic work at the bakery. It was a back room job and she lacked the opportunities given to her younger siblings, two of whom went on to became head teachers. However during the war the family did 'their bit' and they spared her from the bakery to volunteer as a VAD.
   Going up to The Grange was a change from work in the bakery. It meant wearing a formal smart uniform, gaining qualifications, taking orders from senior staff, following rules and procedures, and working amongst all those men! Mary was friendly, helpful and hardworking, and her daughter recalls that her mother said she enjoyed the experience. It must have been a rare window on the world in her young life.[1]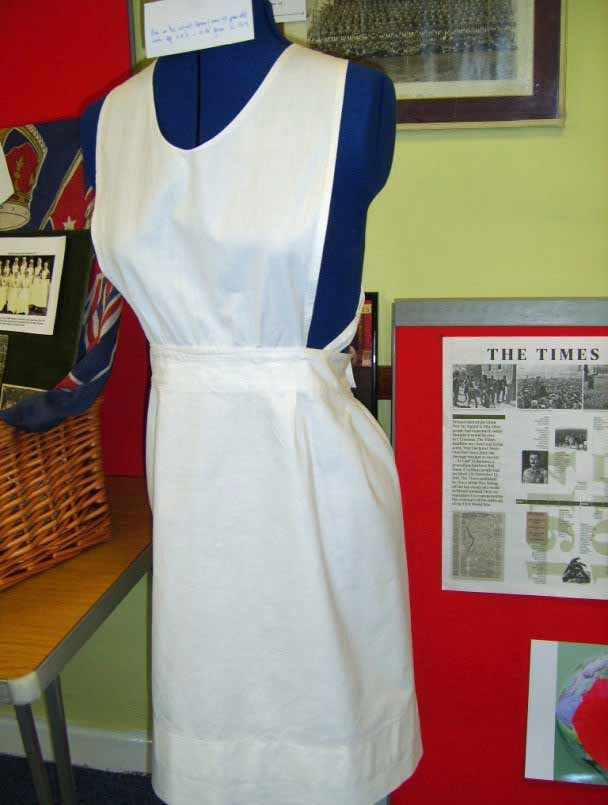 In 1933 Mary married. She was thirty-four years old and her husband electrician Henry John Taylor was forty two. They had one child and as a young wife, living in Stockton, she walked with the pram to Southam every day to help in the bakery. Henry worked in the cement works but tragedy struck the family and he died in his mid years not long after suffering a serious industrial accident.
   Mary is remembered as independent and feisty. She died aged eighty-seven years and is buried in Stockton Church yard. Mary's daughter, who lives in Napton, treasures not only her mother's VAD Red Cross medal but also carefully guards and preserves her mother's apron, which was part of her uniform as a VAD. The label inside shows it came from Horrocks. Pictured here it was on display at a WI and village commemorative WWI exhibition in Napton in 2014.
---
1. Based on conversations with Monica Tonkins, daughter of Mary Grant. ↑