The Grange on Coventry Road was built in the early 19th Century on land called The Springs.  A Grade II listed building, it is cement rendered brick with plinth and bracketed eaves. Not always lived in by its owners, it was frequently rented out, and one of the occupants immediately after WW2 was Captain Claude Scudamore Emery.  Capt Emery was a WW1 RAF veteran who was the Sales and Contracts Manager for the aero engine factory Armstrong Whitworth at Baginton near Coventry.  During Capt Emery's time at The Grange, there were many visitors from his WW1 and RAF days.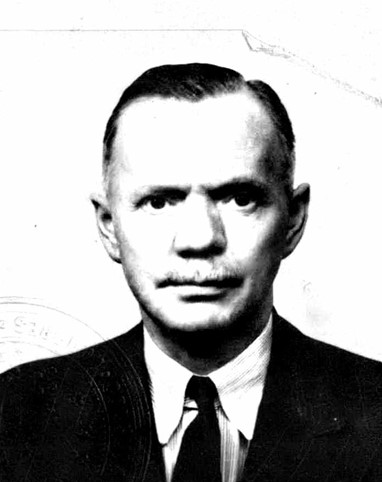 Capt Emery moved from Leamington Spa with his wife Elisabeth and they were settled at The Grange by 1947.  Along the Welsh Road from The Grange was Southam Windmill where the Griffin family lived, and where the Emerys bought their weekly supply of fresh eggs.  Capt Emery got to know the family, and between 1952 and 55, while flying around the world to such places as Switzerland, Egypt, Finland, South Africa and the Americas, he sent postcards with pictures of where he was to the Griffin boys.  It was through this connection with Capt Emery, that Bill Griffin got his apprenticeship in the aviation industry at Baginton when he left school in 1955.  Bill started his new job with a daily lift to work from Rowan Parker who was also working there.
Capt Emery had a very interesting and unusual life.  Born the son of a Vicar in 1895, he found himself in WW1 learning to fly, and at the young age of 21 in 1917 he passed his pilot's licence in a Maurice Farman Biplane with the Military School at Ruislip, Middlesex.  At the end of WW1, Britain started to help Estonia establish their armed forces to keep out the Bolshevik army and in April 1919, the newly formed Royal Air Force (RAF) sent Lieutenants Claude Emery and Charles Gerhard with mechanics and specialists to train pilots in the Defence Forces of the Republic of Estonia.  Lieutenant Emery was soon promoted to Captain and served as a military advisor and chief instructor to the Estonian aviation company for the next seven years.
Emery's name was a source of amusement for the Estonians as they knew "emery" as a compound used in polishing and grinding  The name suited Emery well – he was a little abrasive with his teaching methods, but he did turn out 'highly polished' aviators.
Due to illness sustained in his duties, Capt Emery retired from Estonia in 1926 and returned to London.  In 1938 he resigned his commission, but was allowed to retain his rank.  Meanwhile he'd married Elisabeth Sperling in 1934, whom he'd met through her father Sir Rowland Sperling, a British diplomat who served as ambassador to Finland (including Estonia), Bulgaria and Switzerland.  Interestingly, Capt Emery's mother-in-law was historically associated with Southam through land once owned by her family a couple of miles south of the town.  The Emerys moved from Southam to Warwick and Capt Emery died in 1981 and his wife Elisabeth in 1990.
The photograph is of Captain Emery.  Southam Heritage Collection is located in the atrium of Tithe Place opposite the Library entrance.  We are open on Tuesday, Thursday, Friday and Saturday mornings from 10am to 12 noon. www.southamheritage.org   01926 613503   southamheritage@hotmail.com  Follow us on Facebook.