Being born in 1929 Rowan Parker was only 16 when WW2 ended in 1945.  Rowan's father, Samuel Parker, was the owner of Parker and Lines Butchers on Market Hill, and was also a full time Police Constable.  Although too young for service during the war, that did not excuse Rowan from National Service.  The obligation to serve in His Majesty's forces continued until National Service call-ups stopped at the end of 1960.
When he left school, Rowan joined his father's shop and became a trainee butcher, a role he very much enjoyed.  In 1947 Rowan reached the age of 18 and sure enough his call-up papers dropped through the letter box. Rowan was ordered to report to Budbroke Barracks in Warwick for 6 weeks basic training. The winter of 1947 was extraordinarily bad and unfortunately Rowan was several days late reporting to Budbroke because snow blocked the roads to Warwick.  He had to report to the local Police Station instead, and luckily for Rowan the Army recognised the problems the weather had caused, so he suffered no penalty for turning up late. There followed much marching up and down parade grounds, saluting officers, washing and ironing clothes, bed-making, polishing shoes and basic weapons training. After 6 weeks he was posted to the Royal Artillery Regiment in Oswestry for training in anti-aircraft radar, which was 'state of the art' technology in those days.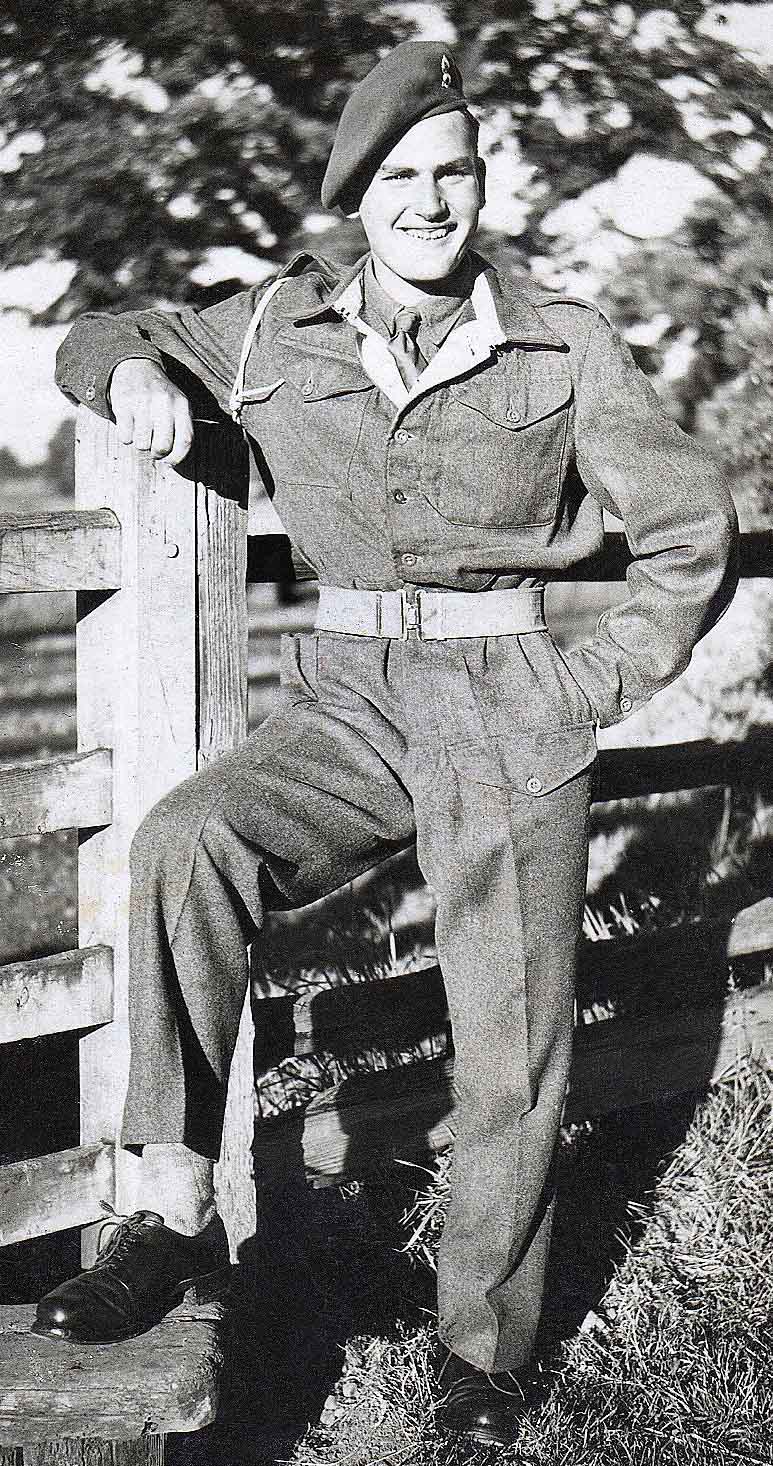 Rowan was then posted to the 75th H.A.A. Royal Artillery Regiment based at Laindon in Essex (Laindon is now a suburb of Basildon). He had been hoping to continue with his butchering skills in the Army, but despite many attempts to interest his commanders in his pre-existing skills, Rowan was told to knuckle down and learn all about Radar. Rowan hankered after getting back to butchering, and when he heard the regimental butcher was leaving, again tried to persuade his superiors to let him take over the role.
Everything seemed to be going well until one day he was called to see his commanding officer. On entering the room, he was invited to sit down (almost unheard of) and was told in no uncertain terms that the Army had not spent thousands of pounds training him in leading-edge Radar technology just for him to become a butcher! After that Rowan got the message that butchering would have to wait until he returned home at the end of his service.
Rowan had many interesting experiences whilst in the Army. One such was when Clement Attlee, the Prime Minister, decided that Regiments other than the Guards would be allowed to perform guard duties at public buildings in London and elsewhere. All soldiers taking part in these duties were provided with made-to-measure uniforms and in Rowan's case, a very smart coloured blue beret, which Rowan proudly wore whilst doing guard duty at the Tower of London.
There were not many soldiers wearing smart uniforms and Rowan and some of his colleagues, were challenged by the Military Police at Paddington Station demanding to know why they were wearing 'fancy dress'. Rowan and his friends took great delight in being able to flash their pay-books (their ID document) at the MP's which confirmed their right to wear this very smart uniform – a bit of one-upmanship when everyone else was still subject to drab ill-fitting wartime clothing and clothes rationing.
Rowan quite enjoyed his National Service, perhaps his only regret being that he never managed to get any trips overseas. 
If you or someone you know has stories to tell about their National Service, we would love to hear them.  We are currently compiling a book of articles by local people about their wartime / service experiences, and we would like to include more stories. 
Our first exhibition this year is titled 'After the War' and is about the development of Southam from 1945 onwards.  We are opening the museum as soon as Government Guidelines allow, and if anyone has photographs or documents relating to the development of Southam post-War, do pop in and see us, or get in touch. 
Also on the theme of military service, please note that May 15th marks the centenary of the establishment of the British Legion and we will be helping our friends at Galanos House to publicise and promote their centenary events.