The Graham Adams Centre* in St James Road Southam is a very popular and well-used community facility for Southam and surrounds – but who was Graham Adams?
Graham Adams was Pastor of the Congregational Church in Wood Street from 1986 until 1997.  The building that now bears his name was formerly Southam's Infant School. Graham organised its purchase and it opened as 'The Southam Church and Community Project' in 1996. When he left Southam for a new post at Grassington the building was renamed The Graham Adams Centre in his honour.
Graham was born in 1939 in Swinton, South Yorkshire. He attended the local Congregational Church and grew into an adult of robust build and enormous energy. He passed his 11 plus exam and won a place at technical college. He went to Leicester University and with a degree in Economics, became a schoolteacher, a lecturer at Nottingham Trent Polytechnic, then principal lecturer in Economics at Leicester Polytechnic.
He gained a reputation for an unusual approach and attended the Congregational Church at Clarendon Park, Leicester. There he was influenced by the Reverend Reg Cleaves who encouraged him to study for the Congregational Union of England and Wales lay pastor examinations. He became part-time pastor at Narborough church in 1967.  He later achieved MAs in Business Studies and Theology. After his marriage to Andrea, and with a family of two children, he worked hard to build up the church, concentrating on working with young families. In 1972 he was one of 12 people who started The Federation of Independent Congregational Churches. In 1973 he led a Youth Conference for the church and by 1978 he was the President of the Federation. From 1989 to 2002 he was its General Secretary and then President again in 2003.
Graham Adams arrived in Southam in 1986 with a reputation for getting things done, and went into action immediately as Pastor of the Congregational Church.  His role was nominally part-time but he always gave his all to whatever he set his mind to. As more people joined the church, more space and improvements were needed.  He was able to persuade the neighbouring land owner to sell the church a small parcel of land and soon funds had been raised, architects engaged and planning permission gained to improve and extend at the rear of the building. In the 1990s he organised improvements inside the mid-19th Century Grade II Listed Church: chairs instead of pews, a Clavinova, an electronic organ, a dais, a balcony and a moveable pulpit. Noting that there was nowhere to have a coffee on market days he introduced 'Coffee Pot' on Tuesday mornings when people could come into the church for a drink and a chat.
In his career he had served as a School Governor and Mayor's Chaplain. He collected for charities, visited the sick and those in trouble, impressing many with his care for all around him. His wife Andrea was Moderator of The Council for World Mission, and Graham was involved in sending groups of young people abroad and encouraging them to take up charity work.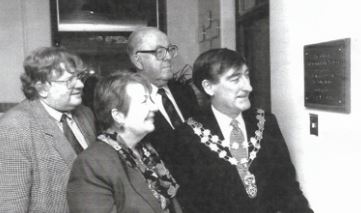 Graham Adams was an unusual character, always seen in formal dress, even while mowing his lawn.  He once had himself locked in a cage to raise funds for Christian Aid, he sang "Ilkley Moor Bar't Hat" at an international conference in the USA, he embellished his church services with plays, engaged in long debates during car trips, and enjoyed being the produce auctioneer after Harvest Festivals. However, he was a modest man, and stayed quiet when he found out, at his leaving party in 1997, that the Southam Church and Community Project building had been named after him. When he died in 2005 tributes poured in from the many people who had loved him.
The photograph shows (left to right) Pastor Graham Adams, Glesni Thomas, Rev John Parker and Bransby Thomas (Town Mayor) at the opening of the Graham Adams Centre in 1997. 
Thanks to Glesni Thomas, Janet Whitehead, Diane Surgery, Thelma Morgan and The Congregationalist Magazine for their contributions to this article. 
*You can find out more about the facilities and activities at the Graham Adams Centre by viewing their website, or emailing info@grahamadamscentre.com