An old adage describes fire as being a good servant but a bad master: fire provides basic needs for life,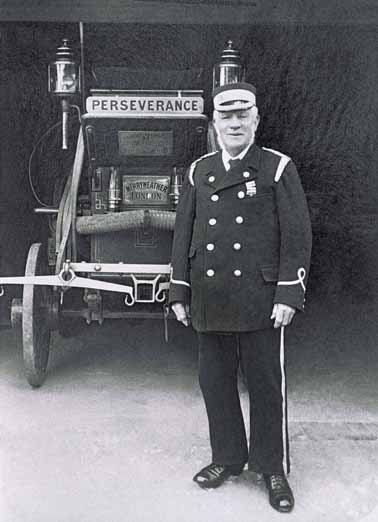 but can also destroy in an instant.  Today the risk of fire is less than it was when houses had open fires and thatched roofs – sparks could cause disastrous fires, such as the one in Southam in March 1742.  In a few hours it consumed nearly forty houses together with outhouses, barns, stables and ricks of corn.
Following the Great Fire of London in 1666, Nicholas Barbon invented fire insurance and the first organised fire brigades were operated by insurance companies.  Where there was no fire brigade, insurance companies developed a strategy of providing manual fire engines.  A metal 'fire mark' was affixed to the external wall of an insured property, and a County fire mark can still be seen on the wall of Yew Tree House in Coventry Street.
The first Fire Brigade in Warwickshire was Southam Parish Fire Brigade, formed in 1812 by Thomas Coles, a Market Hill blacksmith. In early trade directories two fire office agents are listed, James Whitehead of the Atlas and William Simpson of the County.  In 1850 William Jackson succeeded Thomas Coles. Jackson was a brazier and tinplate worker who lived in Warwick Street, described in trade directories as 'Engineer to the Fire Office'.  During his time a larger, horse-drawn manual fire appliance was bought and it was Captain Jackson and his crew that attended Sir Biddulph's fire at Birdingbury Hall in February 1859, taking 25 minutes to dash from Southam.
William Jackson died in post in 1864.  The Brigade continued with several different officers, and in 1893 through local funding, was able to buy a new Merryweather fire-engine from London.  The engine was named 'Perserverance'.  The new appliance was kept at the old engine house in Pendicke Street and in 1901 William Cardall was appointed Captain, (see photograph,) a position he would hold for twenty-six years.  In 1925 he was faced with a major problem – Perseverance needed a new boiler.  Fundraising failed to raise the £295 required, and a compromise was reached with a Ford van towing a Hatfield portable pump.  However, the Ford proved to be incapable of carrying men and equipment as well as towing the pump, so a second-hand Hotchkiss was obtained, a sturdy vehicle, but not always reliable.
In November 1939 a resolution was passed by Southam District Council to the effect: 'The Council shall be asked to terminate the present arrangement with Southam Fire Brigade Ltd and … form a brigade to be called the Southam Rural District Fire Brigade, the personnel to consist of 24 members'. Southam's new Council Fire Brigade was formed and Southam Volunteer Fire Brigade passed into history after 125 years of serving the community.  In 1941 the fire service was nationalised and its equipment standardised. Southam's new fire station in Coventry Street opened on 3rd November 1951.
This article contains extracts from a fascinating new book written for Southam Heritage Collection by local historian Alan Griffin about the early years of Southam Fire Brigade.  Our first Exhibition of 2019 features Southam Fire Brigade. It opens on January 8th and runs until Easter, and includes photographs, video, artefacts and children's activities.  If you are interested in local history contact Southam Heritage Collection, telephone 01926 613503 email southamheritage@hotmail.com  see www.southamheritage.org and follow us on Facebook.