In July 2018, Southam Heritage Collection moved into its new town centre premises within Tithe Place on High Street.  Our 'High Street' has already evolved a long way from its medieval village origins and will continue to evolve over time.
The church and manor house have always been the central focus of early settlements, because these were once the two most powerful and economic features of a community. Hence in Southam we have St James' church and although the original manor house was once on the recreation ground, the new manor house, built in the 16th century, remained close by on the corner of Market Hill and Daventry Street.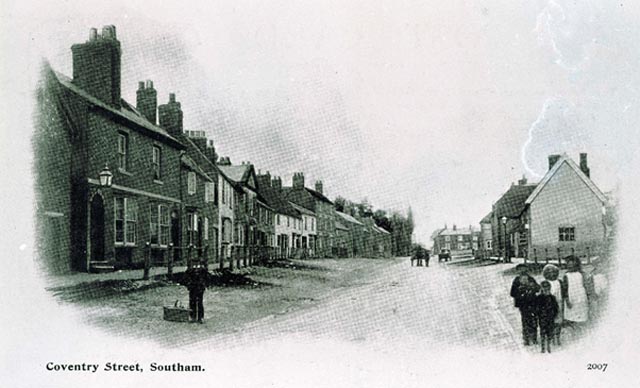 However, when Southam became a market town in 1227, on Market Hill, long before the shops were built, the market stalls were set up in its open space backed against the church wall. From the Market Cross, announcements were made including reading the marriage banns on three market days instead of from inside St James' church.
Southam's medieval 'High Street' was developing along Coventry Street and even today we still have that same shape of the town. From Market Hill heading North, there is a bottleneck before the road opens out into a wide V ending at Welsh Road West. This was the Cattle or Beast Market and where horses and cattle were tethered to posts and sheep folded up in hurdles to sell.
The houses on Coventry Street all had narrow frontages, designed so each tradesman had a road frontage from where he could ply his trade. These were originally not so much 'shops' as workshops, with open fronts without glass so customers could walk in. These narrow 'shops' continued back into narrow houses with yards and long 'gardens' where they could keep a few chickens, a fattening pig, grow herbs and vegetables or even stable a horse.If you take the footpath by the Co-op you will walk a long way back from the shop fronts on Coventry Street until the path comes out on Welsh Road West.
One can still see Southam's long back yards that once made up the original medieval town.
Southam would have supported a wide range of trades and crafts, from carpenters, butchers, bakers, smiths, bowyers (bow makers), potters, coopers, surgeons and many more. Each man specialised in his own craft and competed with his fellow tradesmen. At Southam in the 17th century, there was John Frankton stone mason, Henry Stalworth blacksmith, William Mason tanner, William Lyndoll chandler (candles and soap), Thomas Eady apothecary, to name but a few. By now glass was cheaper and small shops were taking shape selling an increased variety of goods, including items brought in from abroad, from haberdashers, milliners, shoemakers, jewellers and more.
By the 18th century, Southam's 'High Street' stretched the full length of town from Oxford Street to the far end of Coventry Street and all items imaginable could be bought including clocks from the Oldhams, hats from Griffin, mineral water from Sturley, dress cloth from Dalton, bread from Plummer, meat from another Plummer, books from Smith, as well as straw hats, shoes, wheels, chairs, coffins, in fact anything you required could once be bought in Southam.
By Linda Doyle
If you are interested in finding out more about local history, contact Southam Heritage Collection. Please see our website for where to find us and our current opening times. Contact: 01926 613503 email southamheritage@hotmail.com  visit our website www.southamheritage.org and find us on Facebook: Southam Heritage Collection.