CARDALL'S CORNER – February 2018 – By Linda Doyle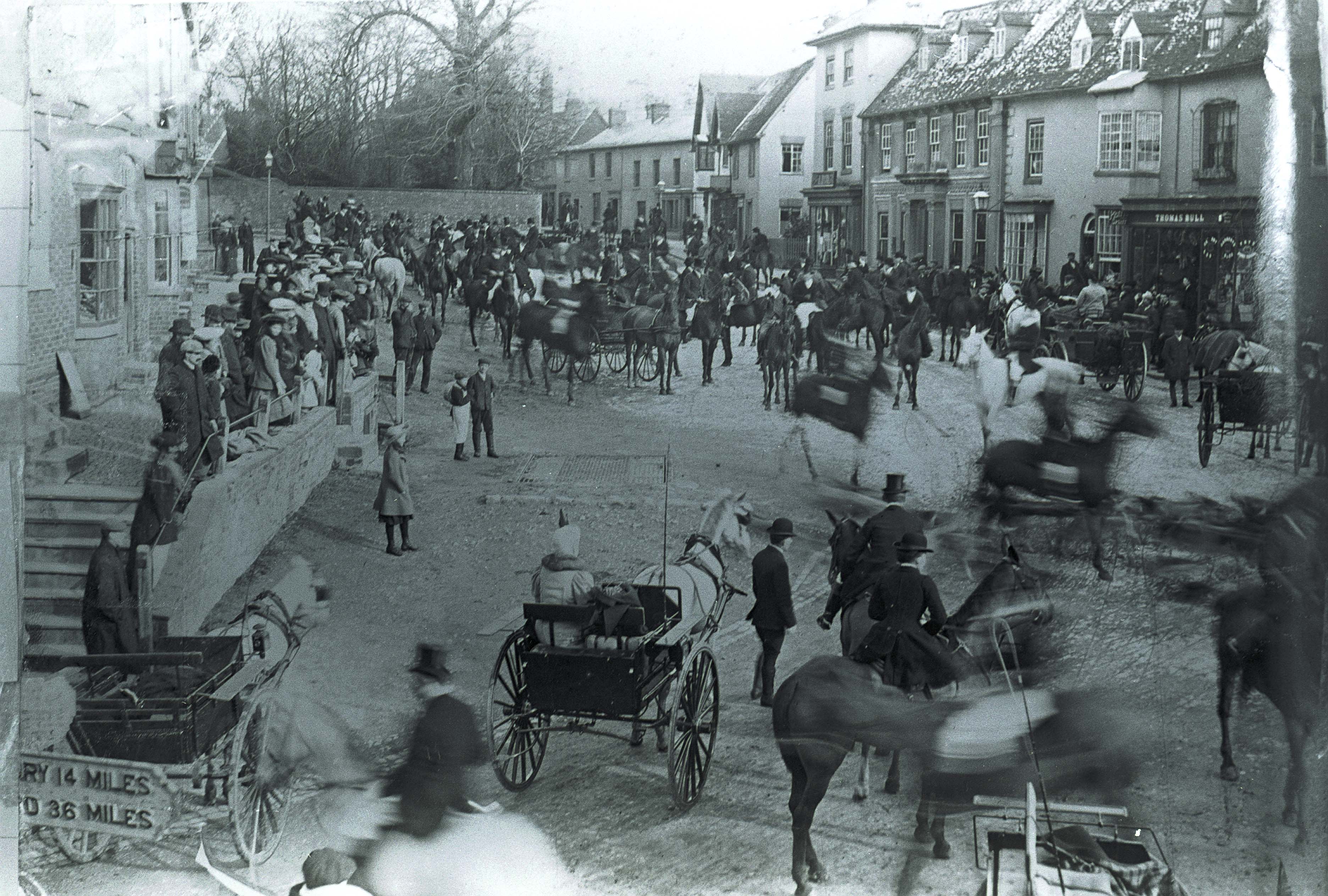 The Great War changed the British way of life by starting to narrow the class divisions between the rich and poor. Previously, a year was not only divided into four weather seasons, but by social and lifestyle 'seasons' as well. One such season was the fox hunting season during the autumn and winter months. At that time every person of any importance in the countryside followed the hunting lifestyle without question. It was said to make men out of boys!
Before the days when railways and then motorways criss-crossed the county, Warwickshire was a popular hunting ground. Estates around Southam were sold as "charming old-fashioned Country Seat or Hunting Box, standing in beautiful pleasure grounds and park lands", such as one described thus in Ladbroke. Nearly every yeoman farmer hunted in the 19th century, kept a hunter alongside his working horses and participated in the sport and its associated springtime races.
One of the surrounding farming gentry who attended Southam's markets, was a William Fairbrother of Burton Dassett. He commenced hunting in November 1841, when only eight years old, and was there at the death of a fox which ran from Bishops Itchington to Kineton and on to Pillerton where it was killed. Mr Barnard gave William the brush (tail), and he was 'blooded' by Ned Stevens – a ritual of smearing blood from the dead fox across the child's face.
Fairbrother's father and grandfather were livestock salesmen as well as fattening cattle from the Welsh hills on their farm, and they used to ride to Smithfield Market in London and back on the same horse. They rode little Welsh bred horses – 14.3 to 15 hands [a hand = 4 inches] – with wonderfully good legs and feet and knee action. For thirty years his grandfather rode the 82 miles to London on the Saturday, sold his beasts at market on the Monday, and was back the same day and very often hunted with Sir Thomas Mostyn the next day.
In the early days, very few ladies hunted. Those who did rode side-saddle and were a very daring and tough bunch of women. At Southam, John Oldham's wife was a keen hunting lady and kept a suitable mount at Beech Hurst where they lived.
The best run Mr Fairbrother ever saw, he thinks, was in April 1854. A fox had been killing lambs at Mr Tomlin's Ireland Farm, Gaydon and they found him nearby. Mr Jones was 'Huntsman' (in charge of hounds) and Mr Spencer Lucy was out on 'Tipperary Boy'. Mr Fairbrother was riding 'Modest Mary', a little bay mare. They ran by Northend, over Burton and Compton Hills, through Elkington's Spinney to Wormleighton Reservoir, and under Mrs Cowper's and Harbage's Covert. Then straight away back, leaving Fenny Compton on the right and Knightcote on the left, to reach Bishops Itchington Holt where the fox was killed. The fox's brush was taken back to Mr Tomlin, of Ireland Farm.
The photograph dates from circa 1900 and shows the Hunt meeting on Market Hill.
If you are interested in local history, and would like to support your local history group, please contact Southam Heritage Collection. You can visit our Facebook page and our website www.southamheritage.org or email us on southamheritage@hotmail.com You can also telephone Bernard on 01926 613503 or Linda on 01926 814214 for more information.