Cardall's Corner – January 2018 – By Chris Holding & Pam McConnell
Our new exhibition titled 'All Our Yesterdays' opens on Tuesday 9th January and will be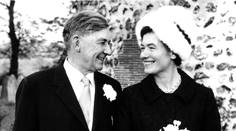 available to view on Tuesday and Saturday mornings (10am to 12 noon) at Vivian House, Market Hill, until the end of April. To begin this New Year we are going 'back to basics' by creating a display featuring some of the intriguing historical artefacts and papers from the Cardall Collection.
Many people will remember that 'Southam Heritage Collection' began life as the Cardall Collection, created by the late Jack Cardall and enhanced by his widow Rene until her death in 2007. It contains in excess of 6,000 items relating to Southam and the surrounding areas. It also includes material from other local historians, a photographic archive donated by Alan Griffin, and many donations from local people.
The Collection is housed in the basement of Vivian House on Market Hill. Sometimes people tell us that they remember visiting Rene Cardall's house where the whole of the ground floor was dedicated to having the artefacts of the Collection on permanent display. She would hold open days at key times throughout the year, and organise special visits for school children and local groups.
When the Collection came under threat in 2006, a group of enthusiasts got together and formed 'The Friends of the Cardall Collection'. The Collection was then handed over to the Friends group who undertook to look after it on behalf of the people of Southam. After Rene's death, it was moved to 'temporary' premises in Warwick Road – the Old Labour Exchange. Conditions there were not good: the building was damp, cold, and subsiding, but at least the Collection had a home and was kept safe whilst the search for more suitable premises went on.
In January 2014 we were fortunate to acquire a lease on the basement of Vivian House, right in the centre of town. The Collection was moved there, the group re-branded itself 'Southam Heritage Collection', and in 2017 it became a registered Charity. Although useful for storage and administration, our downstairs basement is not user-friendly for receiving visitors with limited mobility. So when Orbit were granted permission to build Tithe Lodge, we successfully lobbied to be allocated space within the town's new 'community hub' to create a proper accessible 'museum'. However, at the time of writing, (November 2017,) we are still waiting for news of when the community rooms in Tithe Place will be made available.
It would be impossible to display all of the Cardall Collection in one exhibition – there is far too much of it! However our new exhibition aims to give a flavour of what we have in the Collection, featuring a range of items from school days, to what was available in local shops, and presenting a picture of what Southam may have looked like in days gone by. Although not valuable as 'antiques', the household items, family heirlooms, documents, photographs and general reminders of past days, will provide an interesting window on the way we used to live, suitable for all age groups.
The photograph shows Jack and Rene Cardall on their wedding day.
If you would like to find out more about your local history, please contact Southam Heritage Collection. You can find us on Facebook, email us to southamheritage@hotmail.com visit our website (www.southamheritage.org) call in to see us in Vivian House on Market Hill, or telephone Bernard on 01926 613503 or Linda on 01926 814214