Nelson's Locomotives
The advent of mechanisation at the lime and cement works around Southam, was perhaps signalled by the first three Peckett & Sons steam locomotives arriving in Nelson's works at Stockton in 1897. They were 0-6-0 saddle tanks (six wheels, with water carried in a saddle-shaped tank over the boiler) with a 1ft 9in gauge; 678 'Gamecock' arrived first in 1897; 785 'Niras' in 1899 and 918 'Jurassic' in 1901. All three were broken up in December 1949, although parts were probably sent to Southam to repair the locos there.
Peckett & Sons were based in Bristol at the Atlas Locomotive Works and were a small but well known firm which produced steam engines until 1958, before closing in 1962.
Kaye's Locomotives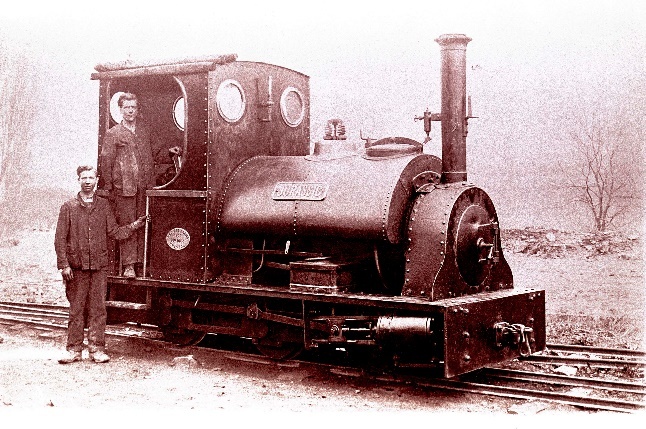 When Kaye's followed Nelson's example by ordering six of these locomotives between 1903 and 1923 to run on rails 60cm apart (about 2 feet), they called their first one 'Jurassic' which has caused confusion with the Nelson's one; but it is the Kaye's 'Jurassic' that is now with the Lincolnshire Coast Light Railway (LCLR) and and was restored to working order in 2017 with the help of a grant of £43,000 from the Heritage Lottery Fund.
Three other Kaye's locomotives still remain elsewhere: Liassic was repatriated from Canada and is now restored to working order and running at the Statfold Barn Railway near Tamworth in Staffordshire; Triassic is kept in working order on the Bala Lake Railway in Wales, but as the owner cannot be traced, it has not been steamed for some years: Mesozoic is dismantled at the Bromyard and Linton Light Railway in Herefordshire  and enquiries from many individuals and organisations about future plans have not elicited a response.
Jurassic's and Liassic's elegant lines, polished brass dome cover, name plates, large cab and long chimney make them popular with LCLR and Statfold Barn passengers. Jurassic could not operate in 2020 on the LCLR at Skegness, because of the covid lock down, but otherwise she has proved reliable and very much a star attraction of Lincolnshire's heritage since the completion of her overhaul.
Saddle tanks were a popular arrangement especially for smaller locomotives in industrial use, because it gave a greater water supply, but it also limited the size of the boiler and restricted access to it for cleaning. Due to this, the locomotive has a higher centre of gravity and the driver's vision is restricted, hence they must operate at lower and so safer speeds. Water in the tank is slightly pre-heated by the boiler, which reduces the loss of pressure found when cold feed water is injected into the boiler. However if the water becomes too hot, injectors lose efficiency and can fail. For this reason, the tanks often stopped short of the hotter and uninsulated smokebox.
Jurassic is purchased by the LCLR
'Jurassic' was purchased by the LCLR in 1961 and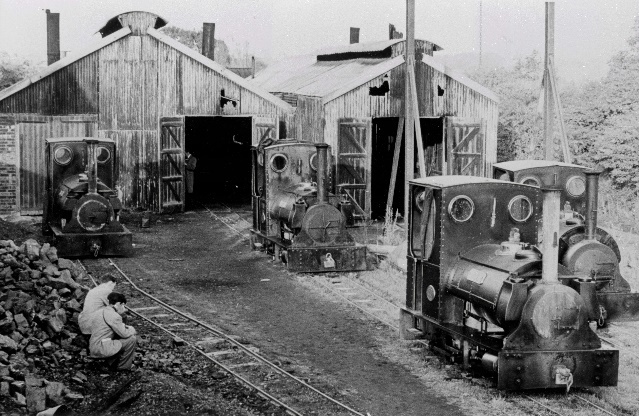 delivered from Southam along with a Ruston & Hornsby diesel to Humberston and put into service immediately, because the LCLR's only other locomotive, a 1926-vintage Simplex diesel had broken down. She steamed successfully and went straight to the rescue of the passenger service. When they got her they found tucked away behind the coal bunker in the cab a copy of a 1956 edition of the Daily Sketch — presumably bought by the crew on its final day of operation
The Ruston & Hornsby 4wd locomotive 'Southam' (168437 of 1933) was scrapped in 1968, but some parts, including the power unit, were sold to the Tal-y-llyn Railway.
The Lincolnshire Coast Light Railway was the first heritage railway in the world to be built by enthusiasts on a greenfield site when it opened on 27th August 1960, to connect the bus terminus in Humberston, south of Cleethorpes, with the nearby Beach and the Fitties Holiday Camp. (The second such railway was the Ocean Beach Railway at Dunedin, in New Zealand's South Island). It was very much real public transport and remained so during its operating life. The line runs on 1'11⅝" (60 cm) narrow gauge rails and operated on two sites adjacent to North Sea Lane, Humberston,  on land rented from the erstwhile Grimsby Rural District Council (and it successor authority) until closure in 1985.
The rolling stock and much of the equipment had come from the Nocton Estates Railway which had carried potatoes, sugar beet, manure and agricultural supplies across a 23 mile system in the Lincolnshire Fens (approximately between Bardney and Nocton & Dunston station on the Sleaford to Lincoln railway), using equipment mostly sourced from the War Department Light Railways network which had supplied  troops, munitions, food, medical supplies and fodder to the front line trenches in France. Jurassic (Peckett & Sons works number 1008 of 1903) was the LCLR's first steam engine, purchased from Southam together with a Ruston & Hornsby 4wd locomotive (named Southam, works number 168437 of 1933).
The railway also became home to a number of ex-GNR items including the somersault signals used to control movements at North Sea Lane station, railings, and other platform furniture from stations on the East Lincolnshire Railway, many of whose minor stations were closed in 1963 under the Beeching cuts.
In the early 1980s the railway carried heavy passenger traffic, but in 1985, faced with a series of obstacles, it closed and the track was lifted shortly afterwards.
Jurassic's Day Out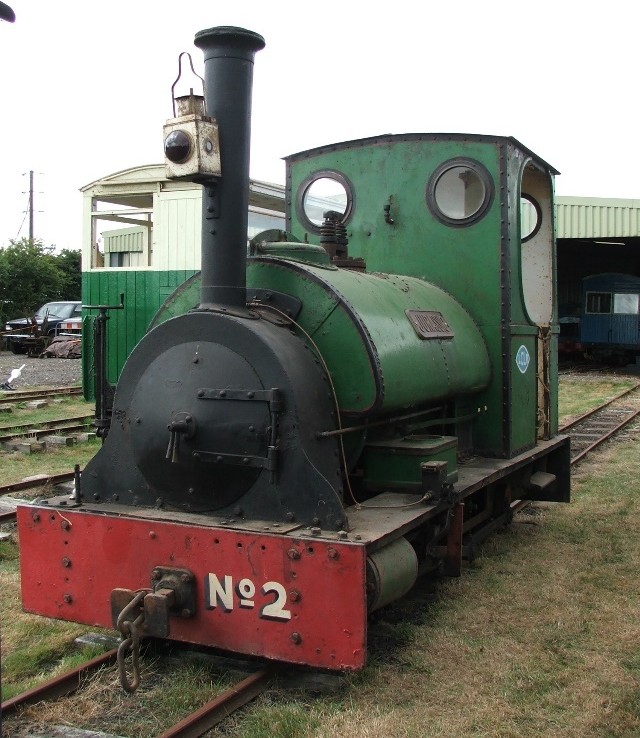 Jurassic has only made one operating foray away from LCLR metals. That was in 1986, when she made a guest appearance at the annual gala of the Leighton Buzzard Narrow Gauge Railway in Bedfordshire, to take advantage of her boiler ticket still being valid. With the aid of one of the LCLR's Motor Rail Simplex diesels, she was brought along the track at Humberston, to where a trailer was waiting to take her to Leighton Buzzard. There her boiler was filled with water and her fire lit and she made several journeys along the LBNGR's tracks to delight spectators and passengers – and her crew from the LCLR.
Jurassic survived the original site's closure in 1985 and the years spent stored in the open near the small town of Burgh-le-Marsh, near Skegness. In 1992, the owners of the Skegness Water Leisure Park, then in development in the seaside village of Ingoldmells, north of Skegness (and very close to Butlins), made a site available for the LCLR to be rebuilt. A shed to protect Jurassic and other rolling stock from the elements was built. Eventually, sufficient rolling stock to operate a service was restored by the handful of volunteers (some ex-Humbeston, others recruited locally) and the line was re-opened by that icon of Skegness, the Jolly Fisherman, in 2009. Trains run from Walls Lane station to the South Loop; the original ex-WW1 rails have been replaced with newer ones from an MoD depot in Cumbria.
The Heritage Lottery Fund Returning Jurassic to Steam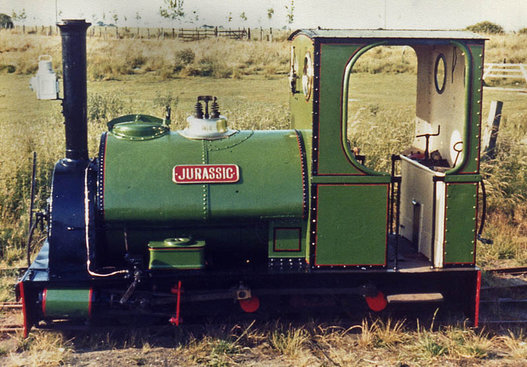 In 1982, a charity, the Lincolnshire Coast Light Railway Historic Vehicles Trust, was formed to conserve a number of the LCLR's historic vehicles which were surplus and they were moved to the Museum of Army Transport at Beverley – and when that site closed, they were transferred to a member's farm north of Mablethorpe, before eventually moving to the Skegness site.
Jurassic was still owned by the operating company and to enable grants to be secured to restore her to working order, she was transferred to the Trust's ownership and a grant of £43,000 was made available by the Lottery – which had to be match-funded by the Trust and its volunteers. The locomotive was dismantled and the boiler and firebox went to specialists on the North Norfolk Railway at Weybourne; other components were overhauled on site and later, the saddle tank was replaced with a new one, thanks to the grant.
Early steam tests were successful and Jurassic has passed her annual boiler inspections, delighting passengers and visitors on her operating days (mainly Saturdays in the school summer holidays). She will need another overhaul and boiler and firebox examination (by removing them from the frames – an expensive and major job) before the tenth anniversary of her return to steam.
The LCLR has a web site with much more information about Jurassic on www.lclr.co.uk and also a Facebook site on Lincolnshire Coast Light Railway Today. The LCLR has been very pleased to welcome visitors from Southam, especially those with family connections with Kaye and Company, for whom Jurassic is very much a part of their family heritage.
Volunteers to work on Jurassic (including to train as fireman and driver) are always welcome and will be given full training.