Lance Corporal Alec Edwin Colbeck (62691)
            Alec was born in 1899 the youngest of six children of coal miner Edwin Colbeck and his wife Hannah.  The family lived at Fern Cottage, Canal Lane, Stanley in Wakefield.  He was the youngest of the family by ten years, and probably a precious 'afterthought' for he was Edwin and Hannah's only son.  He was a clerk before he signed up, and also living at home were his sisters Ada and Elsie, who both were school teachers.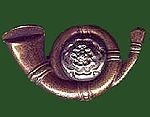 Alec was nearly eighteen when he enlisted in November 1917.  He served with the 9th Battalion of the King's Own Yorkshire Light Infantry (KOYLIs) and was for a time promoted to acting Lance Corporal (62691).
Less than a year later in August 1918 he was wounded in action in the back and leg.  The hospital service in France was overwhelmed with casualties and all who could be moved were sent to England either as walking wounded or 'cot' cases, so he may not have spent time in hospital in France.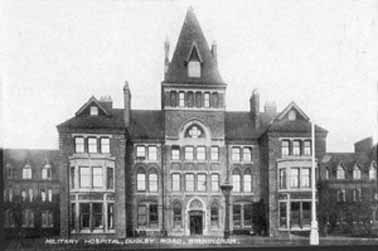 The painful journey from the front probably took about five days.  First a rough ambulance ride, and then a train to the coast , and then on board a heaving and crowded boat, and then trundling along in an ambulance train, Alec returned to 'blighty'.  Medical staff on board did their best to care for the men but some did not survive the journey.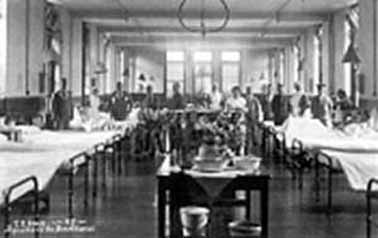 Alec first went to 2/1st Southern General Hospital, Birmingham, converted to a military hospital from the former Poor Law Infirmary on Dudley Road. Taken over in 1915, by the time of the Somme battle in mid 1916, it had been expanded to 1,560 beds.  At this time, there were in total 8,827 beds in the city.[1]
We can reconstruct Alec's arrival.  The convoys for Dudley Road hospital were unloaded at Soho and Winson Green GWR Goods Station, where a special platform was erected for the purpose.  The wounded were transported by VAD Motor Transport from the train convoys to the hospital.
An eyewitness young Mona Neale watched them arrive:
The carriages were shunted onto the siding which led to the goods yard, where ambulances were waiting to take the wounded to Dudley Road Hospital via Handsworth New Road and Winson Green Road.  I remember seeing the soldiers, many with bandaged head and arms…I would wave to them from the top of our garden wall.  Sometimes my father would take me with him to distribute cigarettes, tobacco and chocolate that the customers of the Talbot Inn had donated for the wounded troops.  Mother was not too happy about my going with him because I would get so upset at seeing these poor souls, some of them legless, but it taught me the awful reality of war.[2]
After probably a brief assessment Alec was moved to Southam arriving probably at Deppers Bridge.  It was a tough walk for the walking wounded, and a rough journey on a stretcher with ad hoc volunteer transport for the 'cot' cases.  Many wounded soldiers arrived at the auxiliary hospitals with the blood of their wounds and the mud of the trenches still on their bodies and clothes.
With uniform cut off, and wounds dressed, he was put in a clean bed in the Leamington Hastings ward.  Cramped, and with flowery wallpaper, it would have been bliss.
Alec was in Southam Hospital when his parents learnt of his being wounded.  His father's letter tells of their planned visit:
Dear Boy
     We were very sorry to hear of your getting wounded and as is everyone who hears about it but buck up and bear it.  I know I have no need to tell you that I would like to know if your spine is clear of the wound and if so you have no fear of the other.  Get us those passes if possible and you will see some of us this weekend all being well.
     Elsie and Ada are sending you some books and stamps, Mother and I a trifle of money. Write as soon as possible.
           From Father and Mother.
           Good Night and God Bless You.
Although looking poorly Alec was gradually rehabilitated at Southam (seen above on the right leaning on the urn with cap).  He took part in the Pierrot Show 'In Memory of Happy Days' – he is in the top hat (below centre).  He may also have seen 'The Bright Sparks', the Pierrot Group from Leamington, who regularly came to entertain the troops.
Alec moved to another VAD hospital in Nottingham and soon was discharged from the army in March 1919.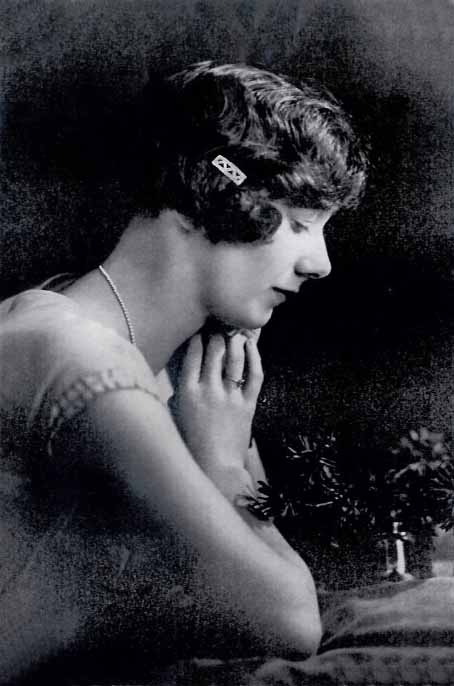 Eventually he met and in 1927 married Eva Sampson and they continued to live in Nottingham.  Alec had mixed fortunes afterwards. Despite his wounds, the army did not give him pension.  He took various jobs becoming a clerk in a munitions factory, a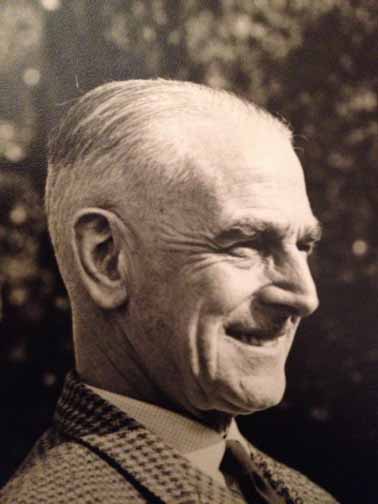 silk salesman and in the 1930s tried to establish a business as a grocer and florist, but life was hard financially.  Throughout his life he suffered from his back injuries.
Alec is remembered with pride and admiration by his grandson Simon Colbeck and his family.
Simon has kindly allowed Southam Heritage Collection to use these unique images that show facets of his grandfather's time at the hospital and of his subsequent life and also reveal details of life at the Red Cross Hospital Southam.
---
[1] Rudge, Winson Green to Brookfields Through Time Revised Edition.
[2] For general information on transportation of the wounded see, MacDonald, Roses of No Man's Land.