Southam in WW1
Centenary Archive
Honouring those who died and all who served

Private John William Worrall
John William Worrall was born in 1885 son of John and Jane Worrall of Coventry Street Southam. John had already enlisted when in September 1915 he married Ada Mary Gibson. She was daughter of Frederick Gibson, a gardener at Ladbroke Hall and she worked there as the general servant for the Farm Bailiff.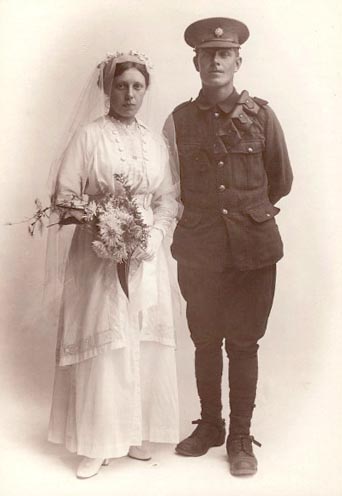 The press published news of all the four sons:
Private William Worrall, Royal West Kents, fourth son of Mr John Worrall is reported wounded and suffering from burns. He joined in March 1917 and is the youngest of the brothers. Of these Private Thomas was killed in August1917. Private John Worrall is now in Mesopotamia and Private H.C. Worrall (Bert) is in France wounded for the fourth time.
(Rugby Advertiser 7th September 1918)
Private Worrall served throughout the war and by September 1918 he was in Mesopotamia. Unlike his brothers he appears to have come through unscathed. 
After the war John joined the Comrades of the Great War.[1] This organisation eventually joined with others to form the Royal British Legion.
John died in 1949 and is buried in Southam church yard.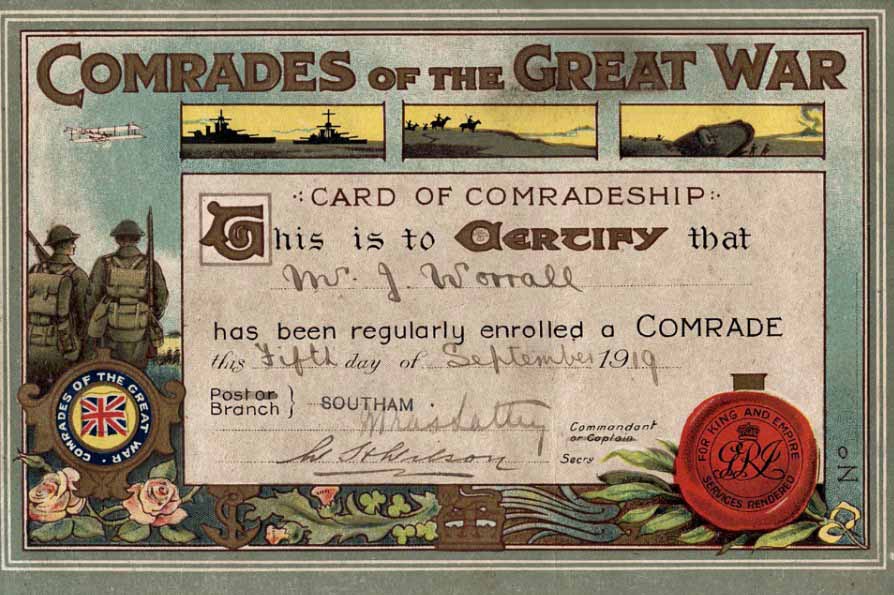 [1] Image of J Worrall's Card of Comradeship, and wedding photo has been made available by Ken Betteridge.