Southam in WW1
Centenary Archive
Honouring those who died and all who served

William Henry Wilson
William was born in Bishops Itchington to Mary Ann, who came from Southam, and her husband William who was a small-scale farmer. They appear, from the 1901 census, to have lived at, or above, the grocer's shop. When her husband died Ann moved back to Southam. In 1911 she was living in a substantial house on Leamington Road (later called Warwick Road) with her only son William Henry. He was employed as secretary to the Gas Work's clerk.
Nothing is known of W.H. Wilson's military service beyond that he was conscripted at the beginning of July 1917. At the time he was working under Mr Plummer, Assistant Overseer and Collector of Taxes for Southam.
In October 1917 he married Evelyn Knight Blackwell five years his senior. Evelyn, daughter of a railway clerk from Harbury, had moved around the country somewhat. In 1911, aged 23 years, she was living with her parents in Southampton; she did not go out to work so was accustomed to a certain style of life.
After the war W.H.Wilson was a founder member in March 1919 of the Southam Branch of Rugby's Soldiers, Sailors and Airman's Association. He served on the committee alongside the doctor Captain Lattey, headmaster W.H.Grassam and other establishment figures in the town. One of their first acts was to establish a Sickness Club. They also discussed the War Memorial, Peace Celebrations, possible sports events, and the amalgamation with other groups to form the Royal British Legion.
As a white collar worker he rose successfully through the ranks of the Ministry of Labour which had been established in 1916. It was a position that caused him to bring cases against those who had claimed 'dole' fraudulently and his name features in newspaper reports of the cases. It cannot have been an easy or even comfortable role in the straightened financial circumstances of the twenties and thirties.
William and Evelyn had a daughter, also called Evelyn, who was born in 1924. They lived at Hill House, Warwick Road.
By 1939 he had risen to be Branch Manager and worked at premises on Warwick Road in the building currently referred to as the 'Old Labour Exchange'. The OLE was for a number of years the home of the Southam Heritage Collection.
The large enamelled sign, now preserved in the SHC, would have been on the outside of the building. With its crown and GvR initials it pre-dates the King's death in 1936. It would have been familiar to William Wilson.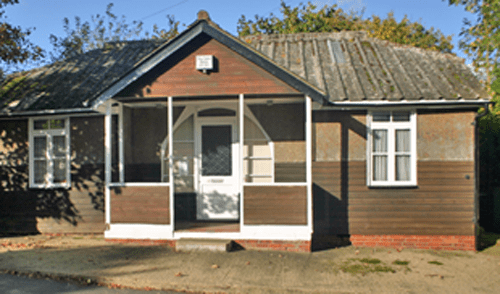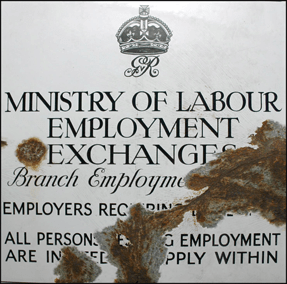 Evelyn Knight Wilson died in 1955 and William in 1961. Both are buried at St. James, Southam.