Southam in WW1
Centenary Archive
Honouring those who died and all who served

Sapper Frank Valentine Widdows  Royal Engineers (965063)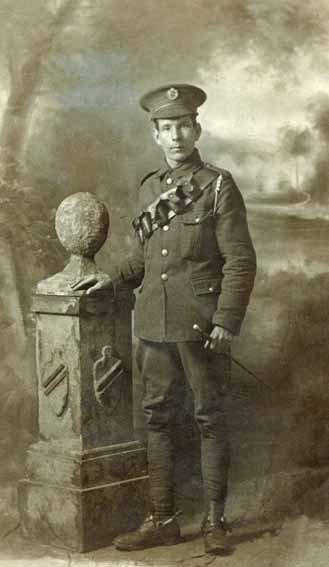 Frank was born in 1887 into a big family in Heythrop in Oxfordshire.  His father was a farm labourer and by the age of fourteen he was a live-in servant nearby at Hill Farm, Chastleton. He moved to Southam and lodged with the Cox family of Pendicke Street.  His occupation according to the census of 1911 was 'shoeing and general smithy – out of work'. Not a propitious start but the same year he married the younger daughter of the household Ada M. Cox.
He served in the Royal Engineers leaving behind a family of two young daughters. After the war the family continued to live in Pendicke Street at Chapel Cottage and Frank appeared to prosper as a blacksmith.
When his second daughter married in 1940 he gave her away in Southam Church and the bride and her bridesmaids wore fashionable dark blue gowns with marching accessories and the bride carried a bouquet of white tulips and after the ceremony was given a good-luck horse shoe.[1] There followed a reception for forty guests at the Infant Welfare Centre. Frank had moved on in life from his humble beginnings and he and Ada were able to give their daughter an elegant start to her married life.
Frank Valentine Widdows died in 1952 and is buried in Southam churchyard.
[1] Evening Dispatch 25 March 1940.