Southam in WW1
Centenary Archive
Honouring those who died and all who served

Gunner Harry Usher (152512)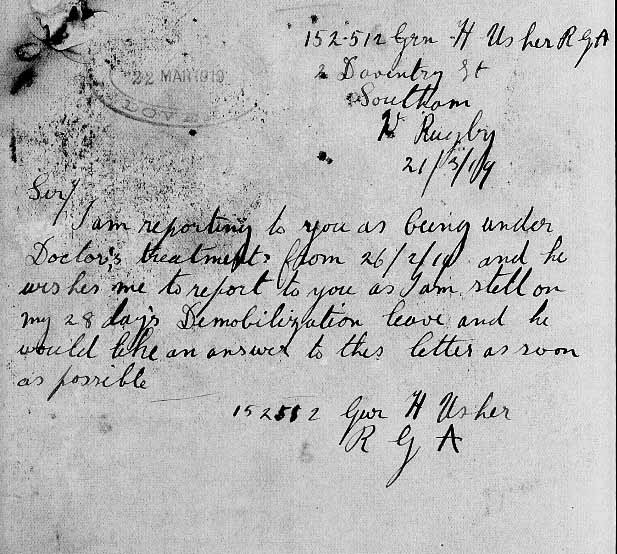 Harry was son of William and Sarah Usher. He was born in 1898. They lived at 2 Daventry Street and like his elder brother William and his father, Harry worked at the quarry.
Harry was serving with Royal Garrison Artillery in Egypt when his mother contacted the press to say that her eldest son Sergeant William H. Usher was a prisoner in Germany.[1]
Harry Usher enlisted in April 1917 and eventually left for the Middle East via Plymouth. Before embarkation he had 15 days in military hospital in Devonport with gastritis – 'no acute symptoms' his records state.
He served in Egypt and was awarded British War and Victory medals and was demobbed in March 1919. This letter, written from home early in 1919, is in his military file.
Harry married Olive Hayward from Stockton daughter of a Southam postman in 1921. Olive died in 1930 leaving two young children Joey and Beryl.  A widower, in 1939 Harry was living on his own at 4 Daventry Street, next door to his old home.  He worked as a roadman – 'heavy worker'. He died in 1965 and is buried in Southam church yard.
[1] Warwick and Warwickshire Advertiser 17th August 1918.