Southam in WW1
Centenary Archive
Honouring those who died and all who served

Private Bertie Usher (146081)
Born in Southam 1878, Bertie was one of the sons of Joseph and Louisa Usher who lived on Banbury Road. In 1904 he married Beatrice Netta Field from Ufton at the Church of St Michael and All Angels, Ufton.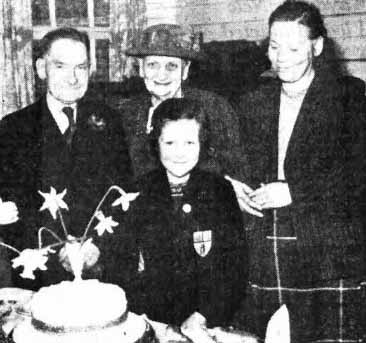 In WWI Private Usher served with the Labour Corp and was awarded the Victory and British medals. After the war he returned to work at the lime works.  He was involved with fellow ex-service men in the newly-formed British Legion and was eventually active in both rugby and football clubs. He was concerned with various public organisations in the town serving for nearly three decades as a town councillor and as a school manager.
Later he took an interest in the Darby and Joan movement and this photograph shows Bertie and Beatrice celebrating their golden wedding in April 1954 at the Darby and Joan Club. Pictured also are their daughter Mrs Cooper and granddaughter Janet.[1]
Bertie Usher died in Southam 1957. He was 78 years old and is buried in Southam Churchyard.
So far no details have been discovered about Private Usher's war service other than that he went overseas.
[1] Warwick and Warwickshire Standard, 23rd April 1954