Southam in WW1
Centenary Archive
Honouring those who died and all who served

Private William Thomas Turner (483468/279647)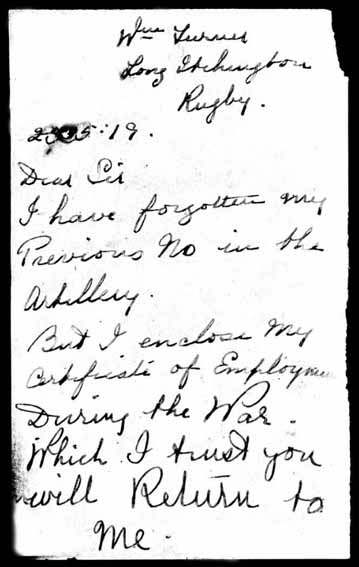 William was born in 1884 to Maria Turner and as a child he lived with his grandfather John Turner an agricultural labourer from Southam and grandmother who originated from Stockton. They lived in Coventry Street. In his teens, living with his by-then widowed grandmother, he worked in the cement works. In 1905 he married seventeen–year-old Annie Waine, daughter of Charles and Elizabeth Waine, from Bascote Heath and the young couple settled in a tiny two-roomed house in Thorn Yards, Long Itchington. Two children, Lily and Ernest, soon followed and another son William Thomas was born later in 1918.
William Turner enlisted in January 1916 and served in the Artillery. He was posted as gunner to Plymouth in February 1916.  His enlistment and dispersal papers are scant but they list his trade as agricultural labourer and address Green End, Long Itchington.  He was transferred to the Agricultural Corps in 1917 and dispersal came in February 1919. This letter from his records is one of the few formal traces of this soldier.
Sadly William's wife Annie Turner died in 1921. Otherwise nothing has been firmly established of his future life.
Other men called 'William Turner' in Southam at this time.
Southam Heritage had an enquiry about a William Turner who served in WWI and is said to have lived in the cottages on Daventry Road, opposite the Convent and who died in 1945. This may be William Turner (b 1884) who is listed on the 1939 survey as a public works contractor. He was married in 1925 to Louisa Helen (b 1891) and they lived at 15 Daventry Street. Indeed it may be that this was Private William T. Turner, described above, and that he had remarried and moved back to Southam.
There was also William Turner (b. 1879 to parents William and Esther) who lived in Coventry Street and another William Turner (b. circa 1900 to parents George and Susan) who lived in Appendix Street and later moved to Stockton. We have established no military details for these two Southam men called William Turner yet both were of an age to have served.