Southam in WW1
Centenary Archive
Honouring those who died and all who served

Bombadier Arthur John Turner (11876)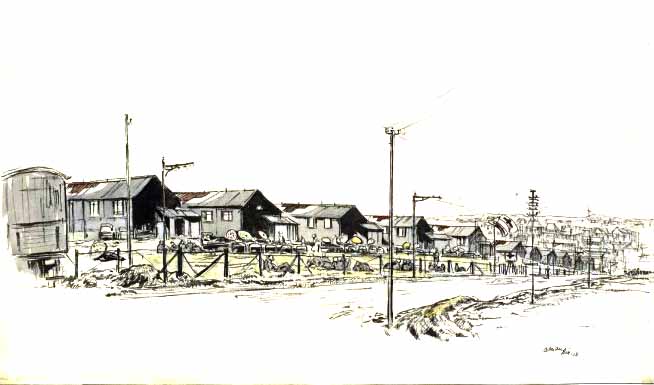 Arthur was born in 1894 son of Samuel and Lottie Turner of Park Cottages.  Samuel worked as a wagon shunter and Arthur followed his father into quarry work.
He enlisted immediately war broke out on 9th September 1914 when he was nearly twenty. Serving with the RFA Gunner Turner landed in Le Havre in July 1915. During August 1916 he suffered gun-shot wounds to the arm and leg and spent time in Wimereaux and Bologne Hospitals. The long road of hutted wards at Wimereaux is shown here in this 1918 drawing now in IWM.
Gunner Turner had returned to the front and in late December 1916 his notes show that he endured Field Punish No I.  Nevertheless he was promoted Acting Bombardier in June 1917.  He was in the thick of the action on the Western Front in both 1916 and 1917.
His records also show another spell in hospital in early 1918 but he in the fighting throughout the summer and was given two weeks home leave in November after the Armistice. During this period of leave he was married to Elsie Terry and he was demobilised not long after in February 1919.
Arthur and Elsie lived in Daventry Street where they raised a family. Arthur went back to quarry work but eventually took on a more technical role as a steam excavation driver. He died in 1955 and is buried in Southam.