Southam in WW1
Centenary Archive
Honouring those who died and all who served

Private Norman Claude Townsend
The Rugby Advertiser (7th September 1918) announced that Claude Townsend, serving with RWR had been gassed. He was the son of Thomas and Ellen Townsend, formerly of Napton and then living in Daventry Street, Southam. He had been working as a baker's assistant and he enlisted in February 1916. Claude's medical and military history is not known but we know a little of his later life.
At Long Itchington on 27th July 1920 Claude Townsend (sometimes listed as Newman or Norman Claude) and Beatrice Maud Russell were married.[1] The bride was 'tastefully attired in a dress of silk rajah with wreath and fall'. She had two principle bridesmaids suitably dressed in cream with decorated hats and two younger sisters also in attendance.  Frank Major, friend of the bridegroom, was the best man. Her parents, Mr and Mrs Russell organised a reception for many guests and the couple had 'numerous useful presents'.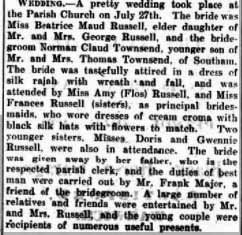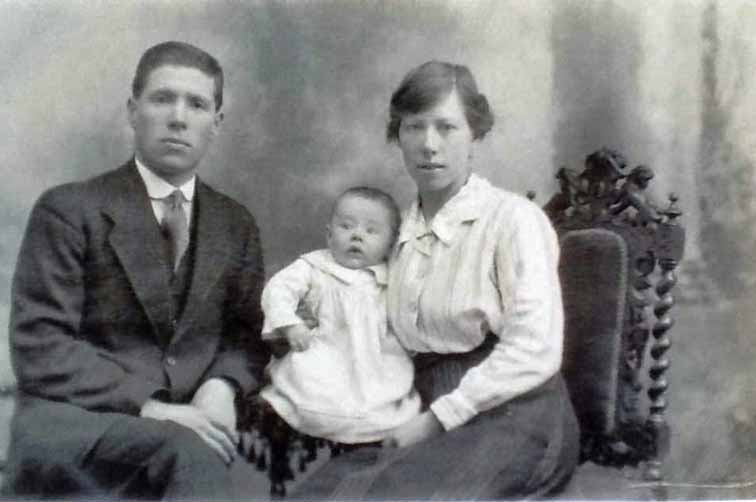 For a working man it was an elaborate wedding and the contrast to the horror of the trenches where he was gassed must have been unbearable to recall.
Their son Eric was born in 1923. They lived in Coventry where Claude eventually became a certificated silk spinner. He died in Coventry in 1973.
[1] Report in Warwick and Warwickshire Advertiser and Leamington Gazette. 7th August 1920.