Southam in WW1
Centenary Archive
Honouring those who died and all who served

Corporal Harold Townsend MM
According to Rugby Advertiser (7th September 1918), Harold was one of three sons of Mr Thos. Townsend of Daventry Street, Southam who were all serving in the war. However Napton, Leamington and Coventry can also claim to be home to this distinguished soldier.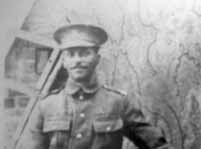 Baptised Harold Thomas Gibherd Townsend in 1890, he was brought up in Napton and worked as a labourer. In 1915 he married Olive Duckett of Grandborough and moved to Leamington. They lived for a short time at 16, Camberwell Terrace before Harold enlisted in 1916 and then his wife, with daughter Evelyn, moved back to Southam. The military records at some point also list 4, Dog Lane, Napton as his contact address.
Serving with the RWR he was awarded the Military Medal for 'bravery in the field'. It is impossible to imagine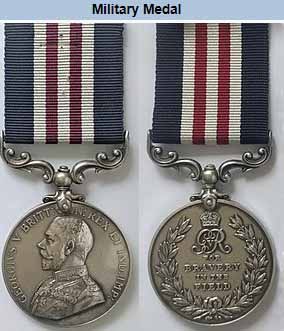 the horror of what he witnessed and endured whilst serving on the Western Front. He was transferred to the Oxs and Bucks, promoted Corporal, but was reported missing on 21st March 1918. By September of that year his family must have already known he was a prisoner in Germany when it appeared in the Rugby Advertiser along with news that his brother, Claude, serving with RWR, had been gassed.
When the war ended Corporal Townsend was repatriated on 23rd December 1918 landing on British soil in Hull just in time for Christmas. Another daughter, Kathleen was born in 1919 in Southam. 
The couple lived in Coventry, according to the 1939 register, where Harold was employed as an 'artificial silk worker'. When he died in 1963 he left nearly £3,000 to his wife Olive.