Southam in WW1
Centenary Archive
Honouring those who died and all who served

Captain Hugh le Despencer Stapleton
Commander Hugh Stapleton was created Captain on 11 November 1918 and he was by then fifty-five years old. Earlier Commander Stapleton lived with his family at The Grange Southam for about ten years but by the time war broke out his son was serving, his wife was by then making their home in London and he went back to sea.
Hugh was born in 1863 in Dorset and aged thirteen became a Naval Cadet. His reports in all aspects of his training as a mid-shipman were first class, and he obtained high marks. Created Sub-Lieutenant in 1883, he was Lieutenant by the age of twenty two. He travelled the world – HMS Seagull, HMS Agincourt, HMS Benbow were amongst his commands.  He was an experienced Commander by the time he voluntarily resigned his commission in 1895.
He was by then married to Bertha G. Cook from London and they had a growing family. Margaret, the eldest, was born in Portsmouth (1892) and Gerald in Kent (1895). It was probably shortly after this that they moved into the spacious surroundings of The Grange, Southam where they resided for about ten years.  Their live-in staff consisted of a butler, cook, three housemaids, kitchen maid, groom and a governess to care for the two children. A gardener and his family lived at The Lodge. The Grange was an elegant property set in the fields at the edge of the town with pretty gardens, a green house and a large orchard.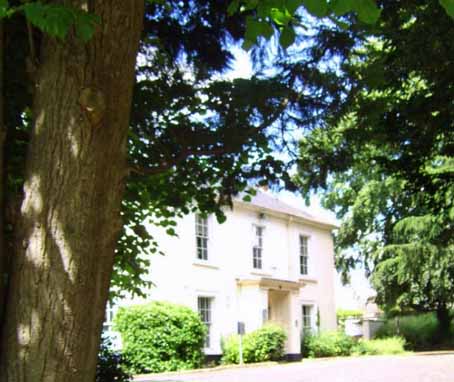 Eventually Gerald went away to Naval College, his father found a managerial post with a manufacturing firm in the north and lived in digs, and the family moved back south to Surbiton in London. Commander Hugh Stapleton's naval career resumed with the onset of war. He served with H M Coastguard from 1914 and he reverted to the Emergency List again in March 1919.
He was awarded the three war medals and given the rank of Captain in 'recognition of services during the war'. He died in 1936 leaving a substantial amount of money which he left to Francis Harry Stapleton a retired brigadier general. Captain Stapleton's career was noteworthy throughout for long service, good conduct and steady dedication to duty.
A memorial has been placed in his honour in his birthplace of Buckhorn Weston in Dorset.