Southam in WW1
Centenary Archive
Honouring those who died and all who served

William Smith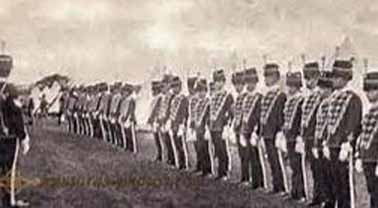 William Smith (born circa 1877) married seventeen-year old Rose Morby in 1895. The teenage couple lived in Leamington and in the next few years they had two children – William and Dorothy.
William Smith senior seemed to move jobs a great deal and in 1901, aged 24 years, he signed on in the Warwickshire Imperial Yeomanry and went to South Africa to fight. This postcard shows a 1901 camp. He served almost a year before the conflict ended.
Eventually the family moved to Southam where William senior worked as a chimney sweep. A keen soldier he signed up again on 3rd September 1914. He was now 37 years old and he lasted only 77 days. The army decided he was 'of good character…but not likely to be an efficient soldier'.
Their son William Alfred enlisted in the Grenadier Guards in November of the same year.  He saw violent action until he was killed in the latter days of the Somme near Guedecourt on 16th November 1916. He is buried in Grove Town Cemetery. By then his mother Rose, listed as his next of kin, had moved to Blockley in Gloucestershire and was living at the Club House. It is not thought she or any of  the family stayed long for the Club has no record of them. Perhaps she moved back to Southam as her son is listed on both the War Memorial and the Roll of Honour.
It is unusual for both father and son to enlist as privates in the same conflict. William Smith (senior) remains a shadowy figure but it perhaps appropriate he should be remembered both as a man who served in two wars and whose son followed his example and enlisted early in WWI. William Smith junior paid the ultimate price and was subsequently awarded the Mons Star, Victory and British medals.