Southam in WW1
Centenary Archive
Honouring those who died and all who served

A/W.O.II Samuel Percy Griffin (11123)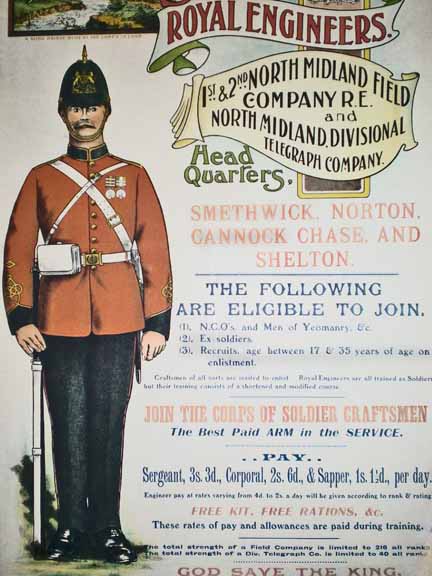 Sam was born in 1882 son of Southam-bornWilliam Griffin and his wife Mary Ann who came from Nethercote. The couple were married at Wolfhamcote Church in 1875.
The Griffins (no relation of local historians Alan and Bill Griffin) lived on Coventry Street.  William was a wheelwright and Mary, unusually for females at that time, had a listed occupation – sick nurse – and she worked on her own account.
Young Sam worked as a whitesmith and he had two sisters, Frances and Daisy, and two brothers both of whose lives were tragically cut short. George died in Hatton Asylum aged nineteen years and is buried in Southam. Frank died of alcoholism in 1908 whilst serving with the Royal Field Artillery in India; he was just twenty-three years old.
By 1911 the census shows 2nd Corporal Samuel Griffin was based with a very large technical company as a fitter in the Royal Engineers (34995 unit China and Hong Kong).  This recruiting poster gives a flavour of the emphasis in the Royal Engineers on technical skill.
Promoted to Sergeant, he served in France after fifteen years in China and Gibraltar.
During 1917 the local papers reported that he was awarded the Meritorious Service Medal.[1]
Before the war ended he was promoted to Acting Warrant Officer II but of his life afterwards, nothing is known.
[1] Alan Griffin, Lest We Forget,  p.55.