Southam in WW1
Centenary Archive
Honouring those who died and all who served

Alfred Edwin Pratt
Twins Alfred and Bertie, born in 1880 were the sons of Charles and Phyllis Pratt.  Phillis died in her thirties when the twins were about seven years old leaving Charles, a quarryman, with a very young family to care for.
They lived for a while on Tattle Bank. In 1900 their father married Sarah Ann from Ladywood in Birmingham. Early in that year Joseph, aged eighteen, joined the Labour Corps, Bertie enlisted in the Royal Field Artillery and at some point around this time, possibly earlier, Alfred joined the Royal Navy.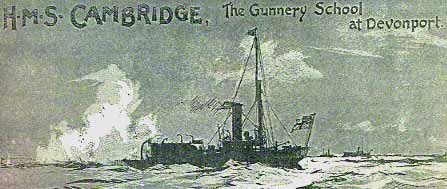 In 1901 he was one of the 979 crew on board HMS Cambridge.  The old vessel was permanently moored in Devonport and was used as a Gunnery School.
Like his twin Bertie and younger brother Joseph, Alfred probably had a long military career. He served in the Royal Marines Light Infantry who amongst other actions were involved in defending Antwerp, in the Gallipoli landings and in the Zeebrugge Raid.
Nothing has so far been discovered about his later life.