Southam in WW1
Centenary Archive
Honouring those who died and all who served

Sapper Albert Edward Poulton (275800)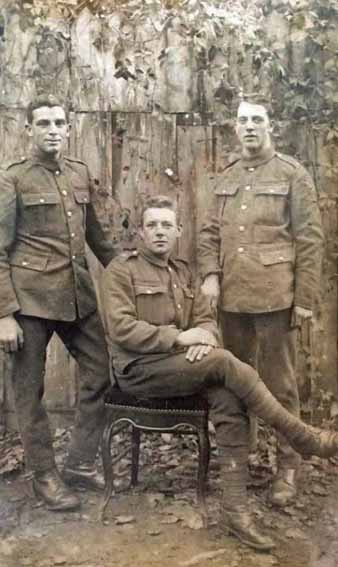 Albert was nephew of Harry and Walter Poulton who both gained Military Medals, the latter with bar. Albert would have seen them go off to war when he was a teenager but as the conflict rolled on his turn came.
Albert was born in 1898 in Southam, the son of a labourer.  His father William, elder brother of Harry and Walter, worked as a railway plate-layer for a time and the family lived in the rural surroundings of Wolfhamcote. Eventually they came back to Southam where Albert worked as a labourer.
He served with 10th Battalion Royal Warwickshire Regiment and is pictured here standing on the left with RWR colleagues.[1]
Sapper Albert Poulton survived the conflict. He was married in Axminster in 1920 to Elsie May Fisher and they had five children.  Albert died, aged 76 years, in Cheddar in Somerset.
[1] This picture was 'shared' on Ancestry by Alison Beiko.