Southam in WW1
Centenary Archive
Honouring those who died and all who served

Sapper Frederick Hedley Potton (99539)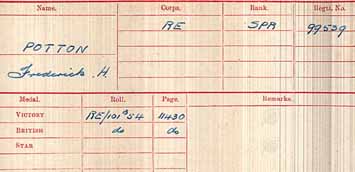 Frederick Hedley Potton was a Rugby person who came to teach in Southam at the Boys Council School. In 1915 he was granted a day's holiday to travel to Rugby to join the colours. He enlisted as a Surveyor in the Rugby (Fortress) Company of the Royal Engineers. He had to report for duty within forty-eight hours.[1] He was awarded the British and Victory medals.
Born in 1890, Frederick was baptised in Rugby at St Andrews Church. His parents, Frederick Edgar, from Dunstable who worked in steam-engine manufacturing as a fitter and Sarah, from Lancashire, were typical of many in Rugby who had moved to the town for industry and personal progress. Their daughter Helena was a teacher and Frederick trained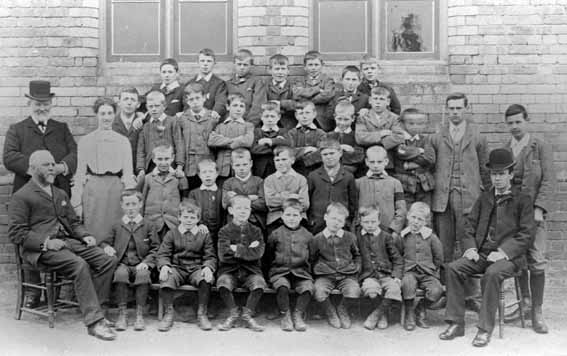 at University College, Reading. He took up his Southam post in 1912.
After the war he returned to Southam to be Headmaster and in 1921 he married local girl, Annie Cotterill.  In the same year he moved on to the post of Headmaster at Wolston Mixed School.
So far little is known of his war service or subsequent teaching career.  By 1939 the couple were living in the Rugby area and their son, also called Frederick, had a scholarship to Lawrence Sherriff School.
Frederick Hedley Potton died in 1977 in Lillington.
This undated photograph shows a group outside Southam Boys School. The men in bowler hats are probably school inspectors; a young teacher which may be Frederick Hedley Potton stands second from the right. Next to him stands an older boy who may be a pupil-teacher of about fourteen years or more.
[1] Alan Griffin, Lest We Forget, p.27.