Southam in WW1
Centenary Archive
Honouring those who died and all who served

Private Thomas Clarke Pittom (2480)
Thomas Clarke Pittom was born on 4 January 1895. He was the son of Richard Pittom, a quarry man, and his wife Emma. The couple brought up their family of eight in a three-roomed house in Appendix Street.
By 1911 sixteen-year-old Thomas was working as a labourer at the brick yard and when he had just passed his nineteenth birthday, in January 1914, he enlisted as a regular in 1st Battalion, Royal Warwickshire Regiment.  Many of the Battalion went to France in August 1914 almost immediately after war broke out. Private Thomas Pittom left for France on 8 November 1914.  Possibly the next time he returned to Southam was an injured ex-service man, discharged because of serious injury.
When and in what action he was wounded, where he was treated  – (possibly in both France and here in the UK) – and how and when he returned to Britain, is not yet established. We do know that he was discharged from the army, therefore not fit for further service, on 10 June 1916. He had sustained a gunshot wound to his left femur.  He was eligible for a Silver War Badge (no. 106,534) to be worn on civilian clothes and his badge was dispatched to him on 8 January 1917, three days after his twenty-second birthday.
It was a very hard time for his family; the elder son William had died of wounds on 2 July 1916 in the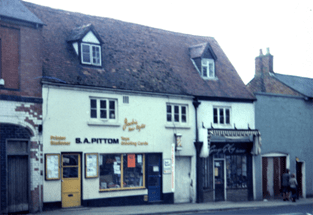 fighting at Neuve Chapelle.
Thomas was married in 1926 to Ethel Westley and they had two sons Tom (b.1926) and Stuart (b. 1929). The family lived in Post Office Lane.  Army papers state that by 1921 his disability was 20% and by 1939 he is listed as working at the cement works as a 'Packer' in what was classed as 'heavy work'. His eldest son Stuart eventually took over the printers
Despite his injuries Thomas lived to be eighty (d.1975), and Ethel died in 1982.  There is a monument to them both in Southam Church yard.
Thomas was eligible for three medals including the 1914 Star.