Southam in WW1
Centenary Archive
Honouring those who died and all who served

Gunner William John Morby (38285)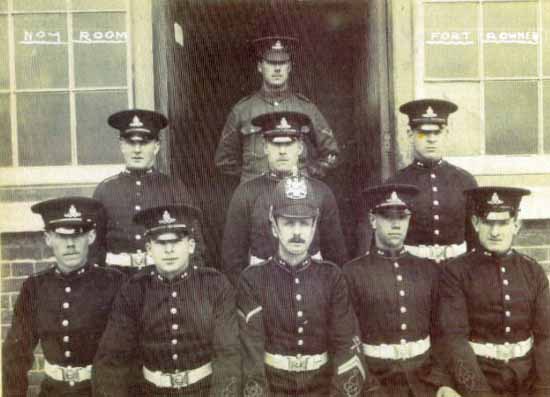 William John Morby, known as Jack, was born in 1888, younger son of Benjamin and Phyllis Morby who lived on Banbury Road. Like his father and brothers he worked in the quarries.
The family was involved in WWI in several theatres of war. Private Henry Thomas was killed in Greece. Sergeant Benjamin Morby was a regular and fought with the Coldstream Guards from the onset of war in France eventually being promoted to Sergeant.  Their daughter Phyllis's husband Robert Elkington of Dunchurch, served in the Rhine Army until 1920 with a motor transport division.
Gunner William John Morby served with the Royal Garrison Artillery and is pictured here at centre of the middle row centre, at Fort Rowner,  probably before embarkation. Gunner Morby was awarded two war medals
After the war Jack returned to quarry work and he and Rose E. Furlong married at Thornbury, in Gloucestershire, in 1922. They lived at 12 Abbey Lane and their daughter Corinne, born in 1924 was married at the parish church twenty years later.  By then her father was again serving his country in war, this time as an ARP warden.
Jack lived to be 86 years old and was buried in Southam Church yard in 1974.