Southam in WW1
Centenary Archive
Honouring those who died and all who served

Private  Robert Henry Middlemiss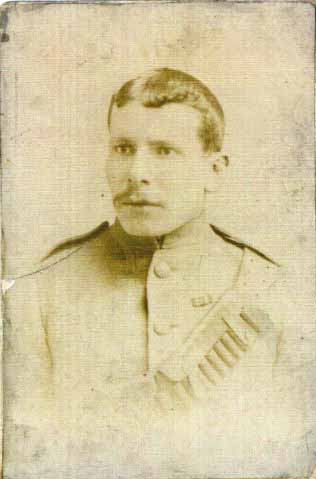 Robert was born in Rotherhithe in 1874 and aged eighteen  he enlisted in the 4th Hussars. Military life came at some cost for he was court martialled and had two spells of imprisonment.  Nevertheless he served in India, followed by a short period on the reserve lists around 1898 and was recalled to the colours in 1899.
Private Middlemiss fought for two years in the Boer War, a vicious campaign, and was granted the South African medal.  This faded photograph probably dates from the 1890s or early 1900s.
He was discharged from 13th Hussars at the end of 1901 being 'Medically unfit for further service'.  He returned to London where  he married widow Nancy McCabe (nee McCormack), in Bermondsey, in 1904.
The couple, together with Nancy's three daughters, moved to Warwickshire living for a while in Stockton with a relative of Nancy, eventually settling in Southam with their, by then growing family. Robert had a small military pension and worked as a farm labourer but was again recalled to the colours in 1914.
On examination, Dr Lattey decided that the veteran, forty-year-old Robert's health was sound and he joined the 'National Reserve Guards for Rugby', a home defence unit. He served for two years and was demobilised in March 1916 being of very 'good charachter' but 'medically unfit'.
Nancy died in 1929 but Robert lived on alone at their home 26 Coventry Street. During WW2 he was an ambulance driver who after the blitz had to transport bodies from Coventry to the Southam morgue. The bodies of children he found profoundly upsetting.[1]
Robert Middlemiss was the grandfather of local historian Mary Williams.  When he died in 1946 his coffin was wheeled down the road from his house to the church on a bier. Mary (who was supposedly too young to see funerals) watched, with a friend, sitting on  the steps of Maud Stephen's barber's shop.  His coffin was draped with the Union flag for the service at the Parish Church.
[1] Conversation: Mary Williams with Val Brodie, 8th April 2018.