Southam in WW1
Centenary Archive
Honouring those who died and all who served

Lieutenant John Thomas Mellers (1725/23522)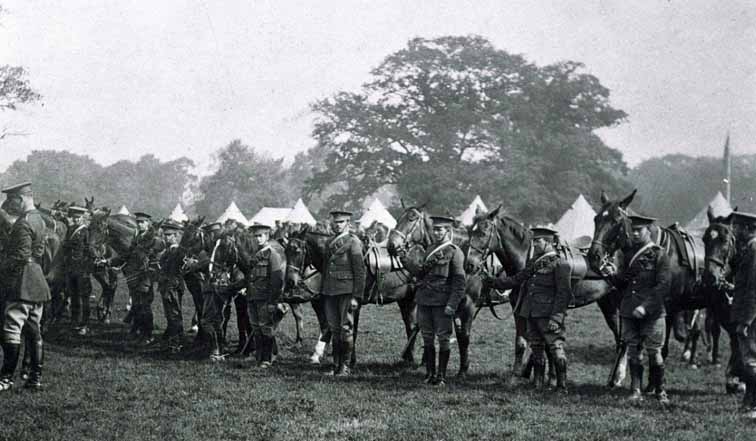 John Thomas Mellers' military career began in the Warwickshire Yeomanry and he was active in Southam in the social round that went with being a 'Saturday-night soldier' in a full dress uniform. There were committee meetings for the Yeomanry Annual Ball and the Cricket Club Ball to be held, serious decorating of the hall to be planned and on the night the role of M.C. to be undertaken.  There were rifle competitions and annual summer training camps – here is a pre-war photograph of them at camp in battle dress.
War must have come as a shock to young white-collar workers such as John Thomas Mellers. Born in Banbury in 1892, he lived in lodgings, helped with the Scouts and was popular in Southam. He went from the calm, clean job as cashier at London City and Midland Bank in Southam to the ferocity, in the early days of the war, of a torpedoed ship-wreck en route to the Middle East. Like the other Southam Yeomen, Sergeant Mellers was rescued and survived and served successfully in Egypt for three years.
In late 1916 he was back in England for officer training with No 1 Cavalry Cadet Squadron. Whilst back home he married Mary E Tough who lived in Erdington.[1] She had strong connections with Southam – her mother was from the town and there were Southam servants working on the family's farm in Curdworth, Aston.
His promotion to Lieutenant appeared in the London Gazette on 17th February 1917 and he was transferred to the Worcestershire Yeomanry and went abroad in April 1917. After the war he was awarded the Mons Star, and Victory and British Medals.
We lose sight of him after the war; the address on his medal card was 'Hill Crest 61 Recreation Road Norwich and it is thought that he died in Sussex in 1972. More information is needed about his demobilisation and onward life.
[1] Banbury Advertiser, 11th January 1917.