Southam in WW1
Centenary Archive
Honouring those who died and all who served

Private Frank John King (2012)
Frank made his life in Southam when he came as a boarder with Mrs Mary Grant who kept a sweet shop in Daventry Street. Frank worked in the grocery business. His enlistment papers state his trade: baker.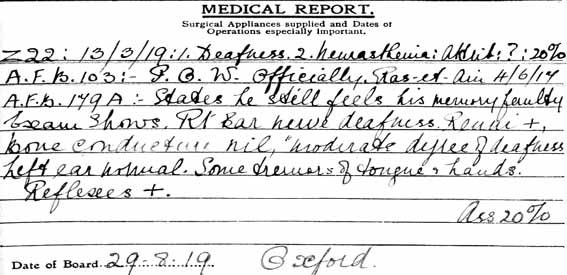 Frank was born in 1879 in Kidlington son of a publican and butcher. He enlisted on 26th August 1914 with the Royal Warwickshire Regiment. He was 35 years old. He served in Gallipoli and Mespotamia. In 1917 he was reported to be a prisoner in Turkey. His mother had heard nothing from him for six months. [1]
This medical report from after the war dated March 1919 shows he was suffering from deafness and Neurasthenia (Shell Shock). He was discharged in the same year.
After discharge he continued to be medically assessed. In 1920 and 1921 in addition to deafness occasional giddiness and pain on stooping were noted. Assessment – 20%. In 1922 deafness and tremors in the hands were noted but the disability was then assessed at 5%.
Frank returned to the grocery trade and in 1922 he was married to widow Helen Stevenson (nee Williams). Helen's husband was killed in 1918. (see Private Harry Stevenson). Frank and Helen had three children – Margaret (b. 1923), Frank (b.1925) and Henry (b.1928).
Frank's name crops up in the early minutes of Southam British Legion, in reports of Southam social activities and he was still working in 1939. Despite his condition and permanent hearing loss in one ear he appears to have made a return to civilian life. He died in 1949 and is buried in Southam Church yard.
[1] Local news reports mentioned in Alan Griffin,  Lest we Forget.