Southam in WW1
Centenary Archive
Honouring those who died and all who served

Private Arthur Hughes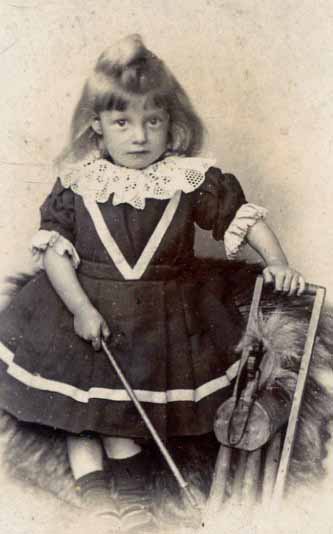 Arthur (pictured left aged two) was born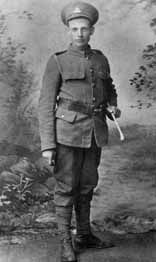 in 1895, one of the family of ten children of Henry and Lucy Hughes. The family lived in Appendix Street, in a cottage adjoining the Methodist Chapel and Henry, like so many in Southam, was a quarry worker.  By fifteen Arthur had left home, working as a boot boy- that was as a servant to wealthy pupils, of around his age – at Rugby School.  He went on to be a saddle maker before joining the 2/8 Battalion of the Royal Warwickshire Regiment (307614) in February 1916.
Arthur Hughes was severely injured in the conflict and his right leg was amputated above the knee.  He was treated at Nethercourt Hospital, Ramsgate; in this photograph Arthur is second from right in a wheelchair.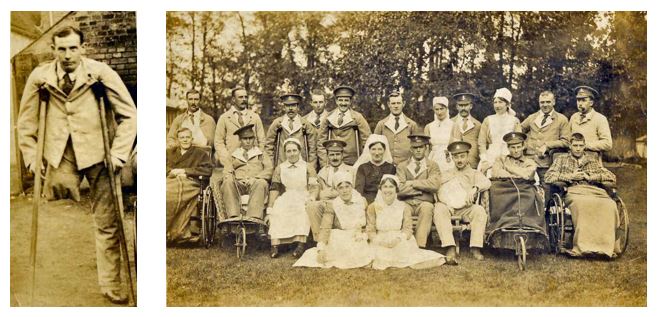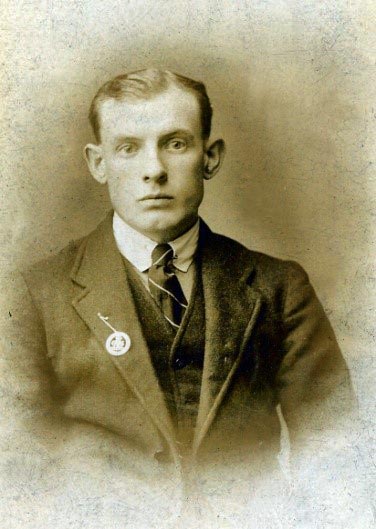 In September Arthur returned home and awaited admission to Roehampton Hospital which specialised in fitting prosthetic limbs. His subsequent return to Southam was accompanied by a curt discharge note, and he was issued with a Silver War Badge, which was to be worn on civilian clothes.
A war veteran with a severe disability, he was not yet twenty-two years old. He was involved with the British Legion and eventually took the job of bar keeper in the Craven Lane Hut. The maiming of Arthur, their second surviving son (four sons had died in infancy), must have been devastating news for Mr and Mrs Hughes, and then they had to bear the loss of Sidney, who was two years younger than Arthur who died on 3rd February 1918 aged  just nineteen-years old.
Despite his disabilities, Arthur lived a positive and active life. He is remembered with affection by his relatives. He was married in 1929 to Mabel Violet Beasley who was nearly ten years his junior. They lived on Coventry Road, Southam, before moving to Villiers Street, Leamington, where Arthur worked as a road sweeper.
Arthur was an intrepid cyclist riding a 'fixed wheel' bike. He made regular weekend trips to Southam and could pedal all the way up the Ufton Hill, when others had to stop and walk.  He is remembered as a kindly and very friendly man. His great nephews recall he had a 'Sunday best' artificial leg which had a button that made it bend. The little lads were intrigued by this entertainment! He is pictured here on the right at a family celebration of his parents' golden wedding in the 30s and his brother Fred, who also served in WWI, is fifth from right. Arthur died in 1963 aged sixty-eight years.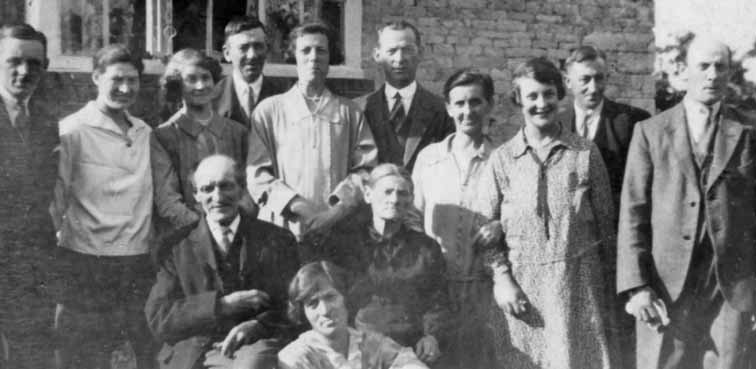 (Based on conversations with Arthur's great nephew Roger Cleal who has made available these photographs for use by SHC)