Southam in WW1
Centenary Archive
Honouring those who died and all who served

William Charles Hodges (366687)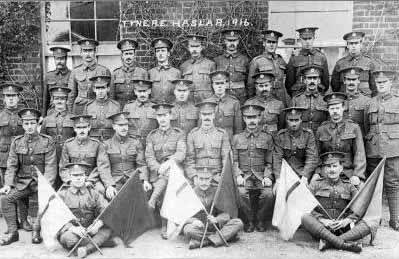 Born in 1897, William was the son of John Faulkner Hodges and his wife Emily of Coventry Street where the family had a small farm. William enlisted in 1916 and his papers described him as a farm labourer 'intelligent, standard to board school'.  He had health issues – 'Tachecradia. Myacardial weakness' (heart problems) – but despite this, and having a 'hammer toe' and a need to wear insoles, he was recruited – classed as fitness level III, category B2.
Making use of his intelligence the army sent him to the newly developing Royal Engineers Tyne E.E. section at Haslar, which was  developing rapidly the anti-aircraft defence systems in response to the growing menace of bombing across the south coast. This photograph shows a section of Tyne E.E. that William joined in 1916.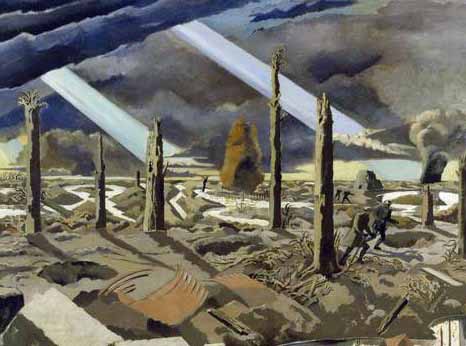 By the end of the war there were 469 anti-aircraft guns and 622 search lights in Britain.[1]  The beams of search lights are enduring images of an apocalyptic landscape as captured here by Paul Nash.[2]
These beams were not from bulbs but carbon-arc lights which created a continuous succession of immensely bright sparks. It was dangerous work and William was injured more than once and was admitted to Gosport Military Hospital in October 1918. He was demobbed in November 1919.
He returned to Southam and worked again on the land, living with his widowed mother and spinster sister. He died in Deppers Bridge in 1956 and is buried, (called 'Billy' on his gravestone), in Southam churchyard.
[1] Keith Brigstock, Lecture to Royal Artillery Historical Society, 2007.
[2] Section of painting by Paul Nash, Menin Road (1919) (IWM)