Southam in WW1
Centenary Archive
Honouring those who died and all who served

Private Josiah Carter Hodges (4278/13656)
Josiah Carter Hodges was born in 1871. He was one of three sons of Samuel and Sarah Hodges of Banbury Road, Southam, all of whom served in WWI. Josiah was a labourer and in 1904 he married Selina Isabel Hopkins. Both were in their early thirties but several children followed including Frank who died in 1916 of Diphtheria. He was just seven-years old. The death certificate signed by Dr Omerod appears in Josiah's military records.
Private Hodges had served with RWR in India and although forty-three years old as a reservist he was recalled to the colours enlisting on 7th September 1914. By early 1915 he was discharged as 'no longer fit for war service'. He had not survived the harsh winter route marches and was discharged with 'Vascular disease of the heart' in April 1915. The following month Dr Omerod examined him and found him 'fit for local defence' so he served again. At the time of his young son's death, forty-five year-old Private Hodges, was a prison guard at Dorchester POW Camp.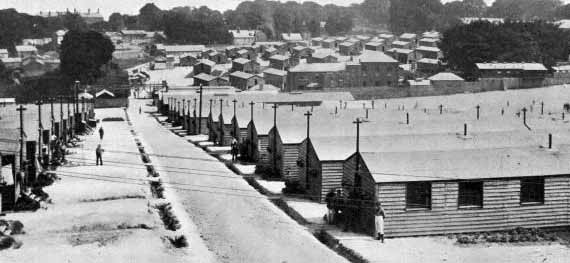 The Dorchester camp held 4,500 POWs so the services of Private Hodges were retained until February 1919. It would have been gruelling work for a middle-aged cardiac sufferer.
 Josiah died in 1926 and Selina his widow lived for another 30 years. Both are buried in Southam church yard.