Southam in WW1
Centenary Archive
Honouring those who died and all who served

Private Frederick Job Hodges
Frederick was one of three sons of John Faulkner Hodges and his wife Emma. All of the brothers – Albert John, William Charles and Frederick Job – served in WWI.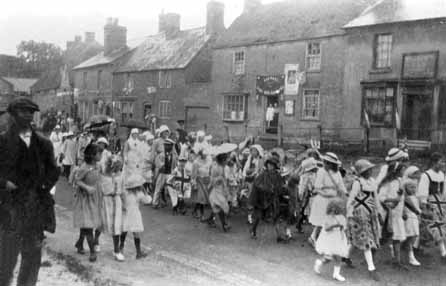 Frederick was born in 1894 and went to Southam Council School.[1] By 1911 he was working as a labourer in the cement works.        
There is a plethora of men listed in WWI medal records called 'Frederick J Hodges' so it is difficult to establish details of his service without more information.
In the Warwick Advertiser the Council School listed Private F. Hodges serving as a soldier in May 1915. We may reasonably surmise he went with BEF to France and would therefore be entitled to the Mons Star, and British and Victory medals.
After the war, in 1921, he married Rhoda Smith from Long Itchington and they lived in Coventry Street and he eventually became a locomotive driver. He died in Southam in 1969.
This photograph shows the 1919 Victory Parade in Coventry Street after the war.
[1] Warwick Advertiser list of former pupils serving in HM forces. 1 May 1915.